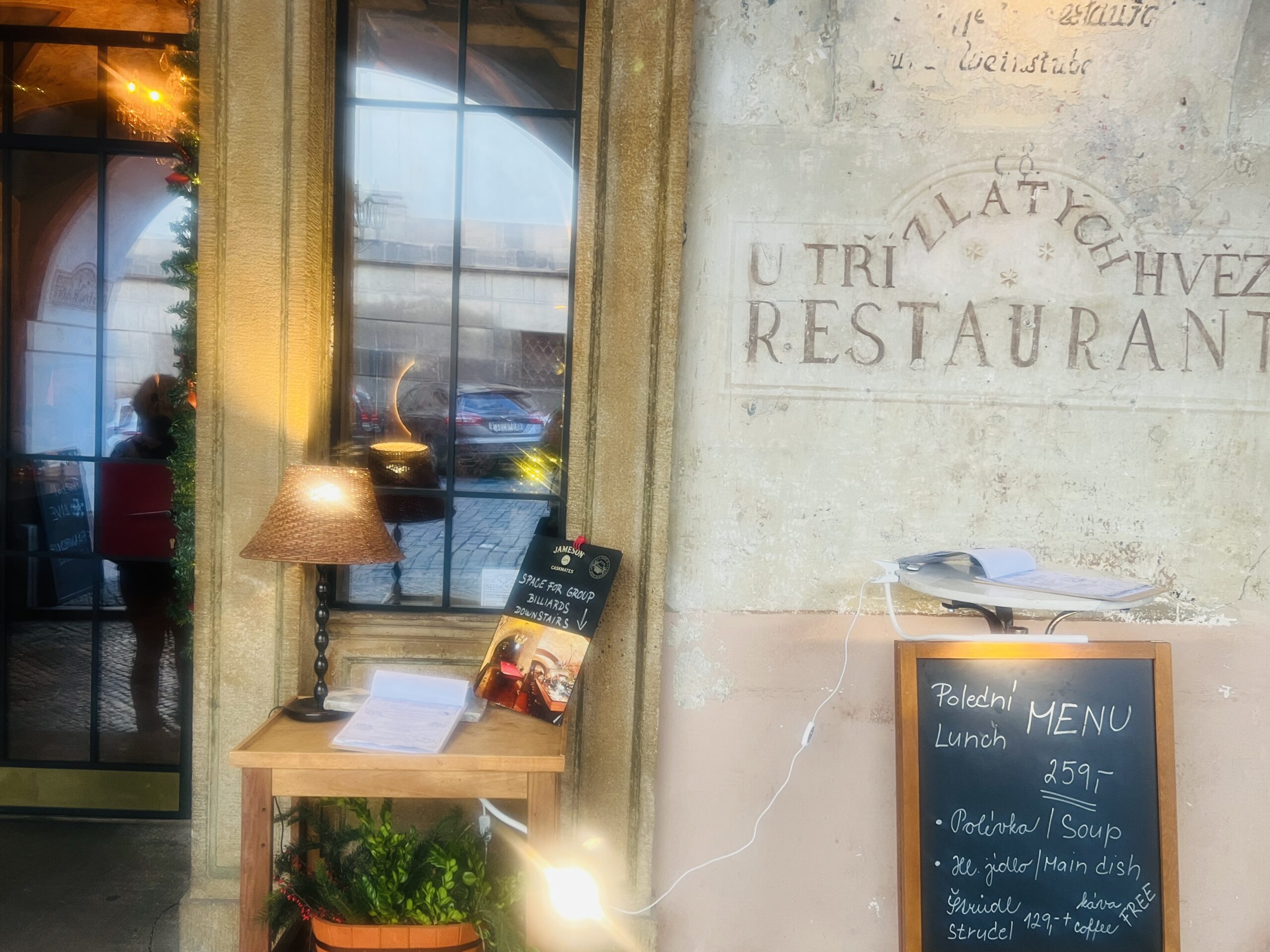 U Tri Zlatych Hvezd means "At Three Golden Stars" in Czech. The first written mentions of the Three Golden Stars house date back to 1400 A.D. This is one of the remaining Prague empire houses with stucco decor. It was completely burned down during the Hussite Wars and rebuilt in 1813 where it stands till present day.
U Tri Zlatych Hvezd – Interior
The interior is decorated with full-wall paintings inspired by drawings from the book Atlanta.
Directly opposite the entrance, there is a replica of the marble slab with the face of pagan god Triton. If a man puts his hand in the mouth and tells a lie, he will never take it out. Hence many people call it Bocca della Verita (mouth of truth).
I especially like the chandeliers in the middle of the room, which casts a warm glow in the room. The ambiance and soft lighting makes this place perfect for a date or intimate meals. If you want someplace more lively, check out Potrefena Husa Hybernská.
U Tri Zlatych Hvezd – The Food
We were just in time for lunch. U Tri Zlatych Hved offers lunch set at 259 CKZ per set from 11am to 4pm. Each set comes with a soup and a main course.
You can find their full menu here, if you are not coming during lunch.
Traditional Czech Onion Soup is as traditional as it gets. It is a simple soup that many restaurants in Czech serves. It is especially popular in autumn and winter as it help to keep the body warm.
Originating in Hungary, goulash is one of the national dishes of Hungary. Beef Goulash is a thick soup with chunks of beef and vegetables, seasoned with paprika and other spices. The bread dumpling is perfect for mopping up all the delicious soup.
As someone who loves cheese, Fried Cheese sounds like heaven. The cheese (usually Edam, Hermelín or Niva) is coated with flour, eggs and breadcrumbs before being deep-fried. I love the crispy exterior and soft chewy cheese inside. This pairs exceptionally well with the accompanying tartar sauce and fries.
Chicken schnitzel is not only a favorite in Germany, it is very popular in Czech too. The crispy exterior and juicy chicken inside gives great contrast in  texture, but I don't really fancy the bland mashed potatoes.
Pizza Margherita is a crowd pleaser wherever you go, but especially so in U Tri Zlatych Hved. I have read many reviews that the pizza here is exceptional and it is true. It's just a simple pizza of tomatoes, mozzarella cheese, basil, salt and extra-virgin olive oil. Yet, it tastes terrific with a homely taste. This is the best of all the 4 mains.
U Tri Zlatych Hvezd
Address: Malostranske Namesti 8/263, Prague 11800 Czech Republic
Telephone: +420774328182
Email: utrizlatychhvezd@gmail.com
Opening Hours: Daily 11am – 11pm
Website: http://utrizlatychhvezd.cz