I finally visited the Oriental Kopi that my friends have been raving to me about. The original restaurant is in Kuala Lumpur but we visited the first outlet in Johor Bahru at Johor Jaya.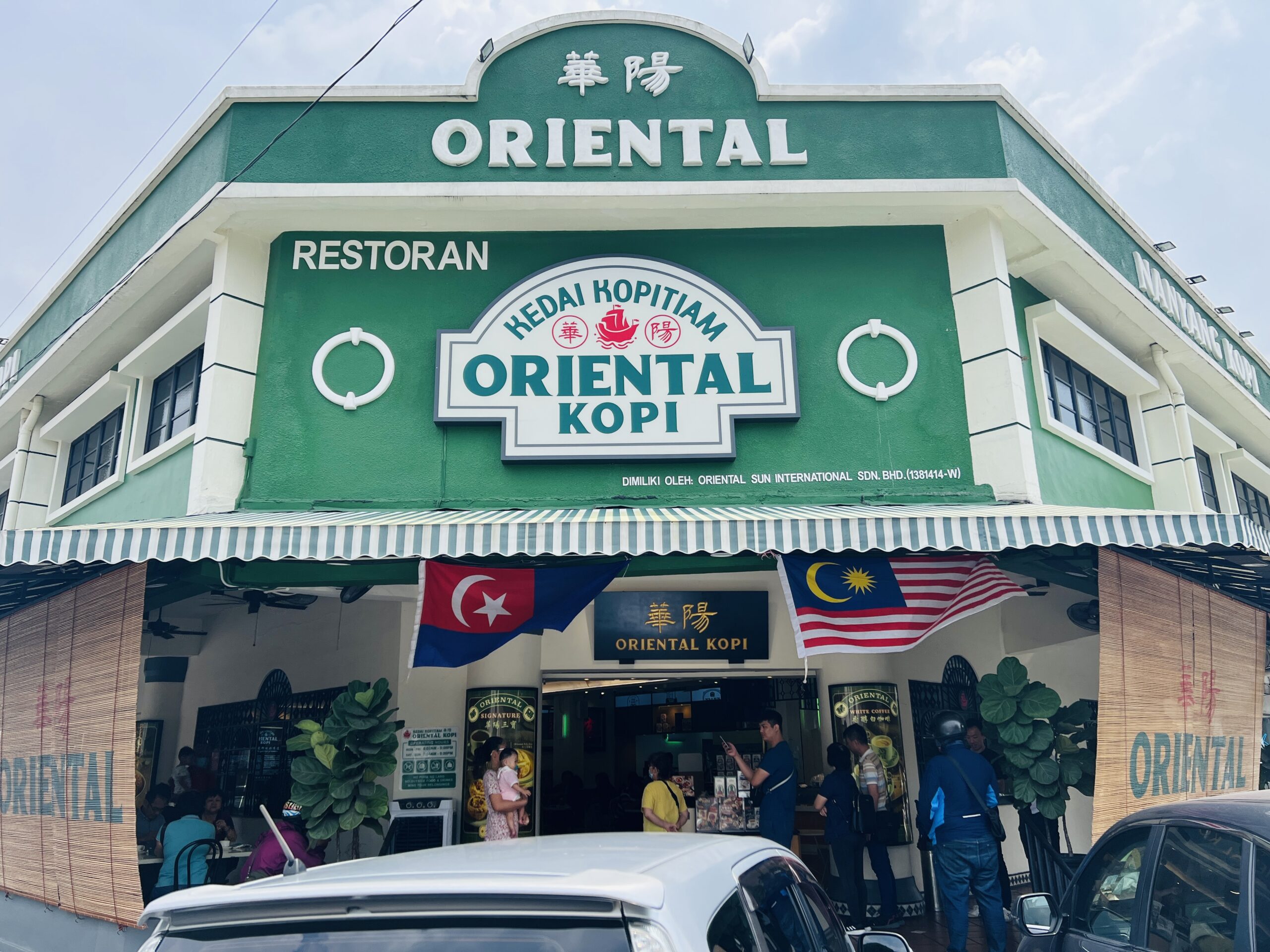 The coffeeshop occupies a corner shophouse in Johor Jaya. The green and white signage that proudly proclaims "Oriental Kopi" is easy to spot.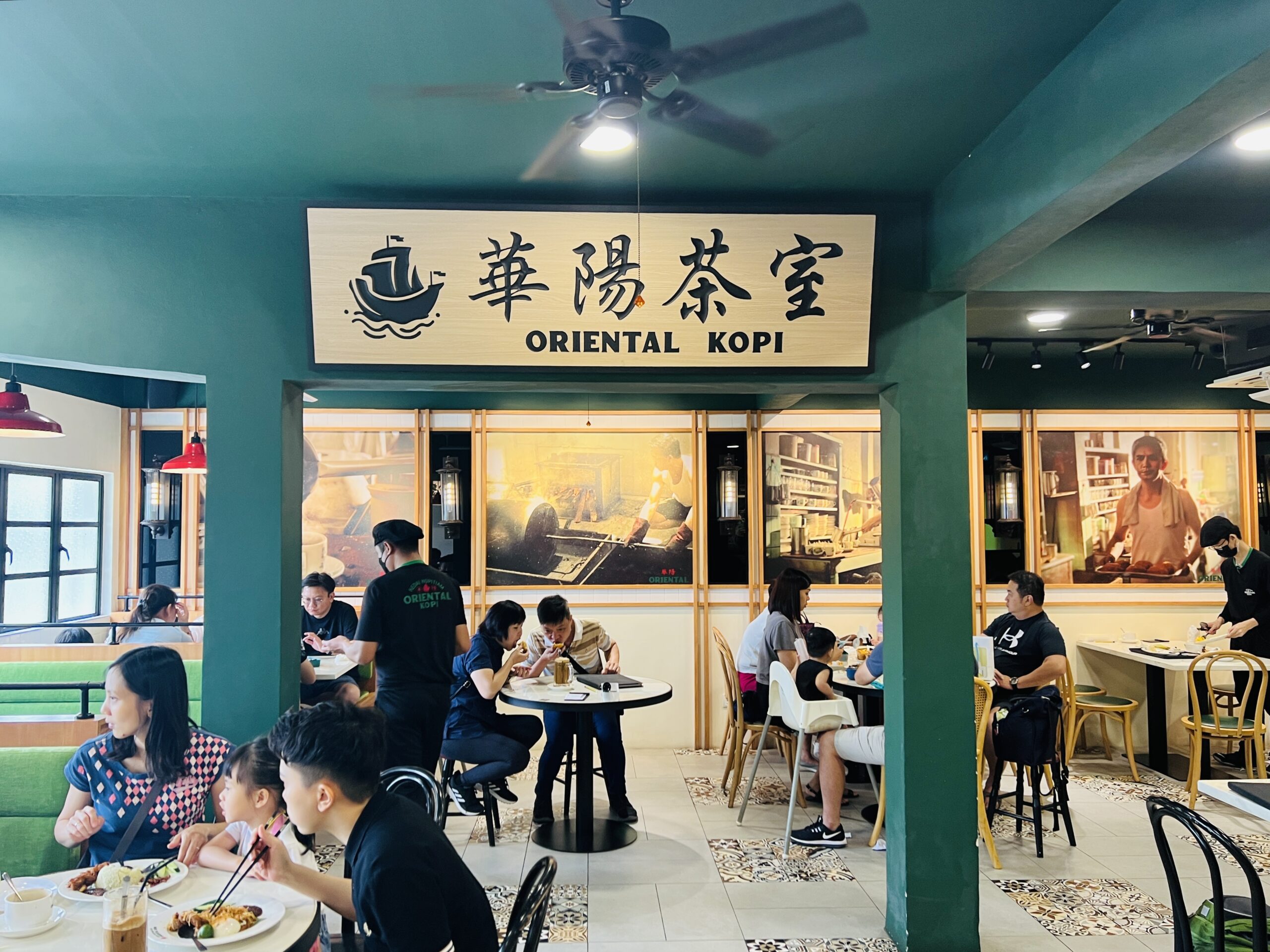 The traditional design inside reminds me of the iconic Mido Cafe in Hong Kong, mixed with vibrant colours and modern design. There are more seats upstairs, which comes with many Instagram-worthy spots.
The Food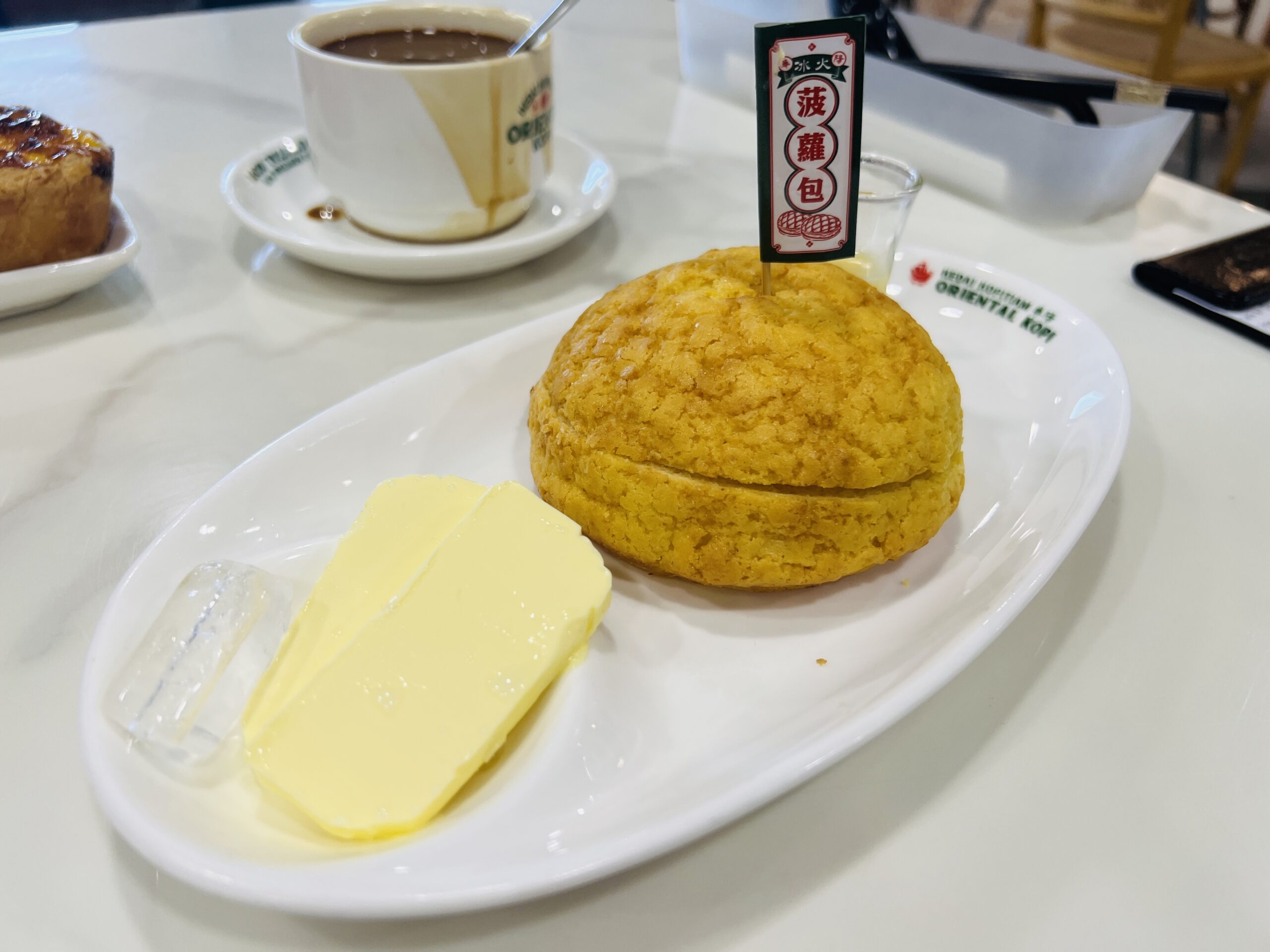 Oriental Kopi is famous for their Oriental Polo Bun 华阳冰火菠萝包 [RM7.90]. The bun has a checkered top which looks like a pineapple, hence the name bo-lo bao.
The bun has already been cut in half horizontally, you just have slide in the two thick slabs of butter kept cold with an ice cube and drizzle the condensed milk in the accompanying shot glass.
The combination of warm fluffy bun with creamy butter and sweet condensed milk makes this one of the best polo bun I have  had so far.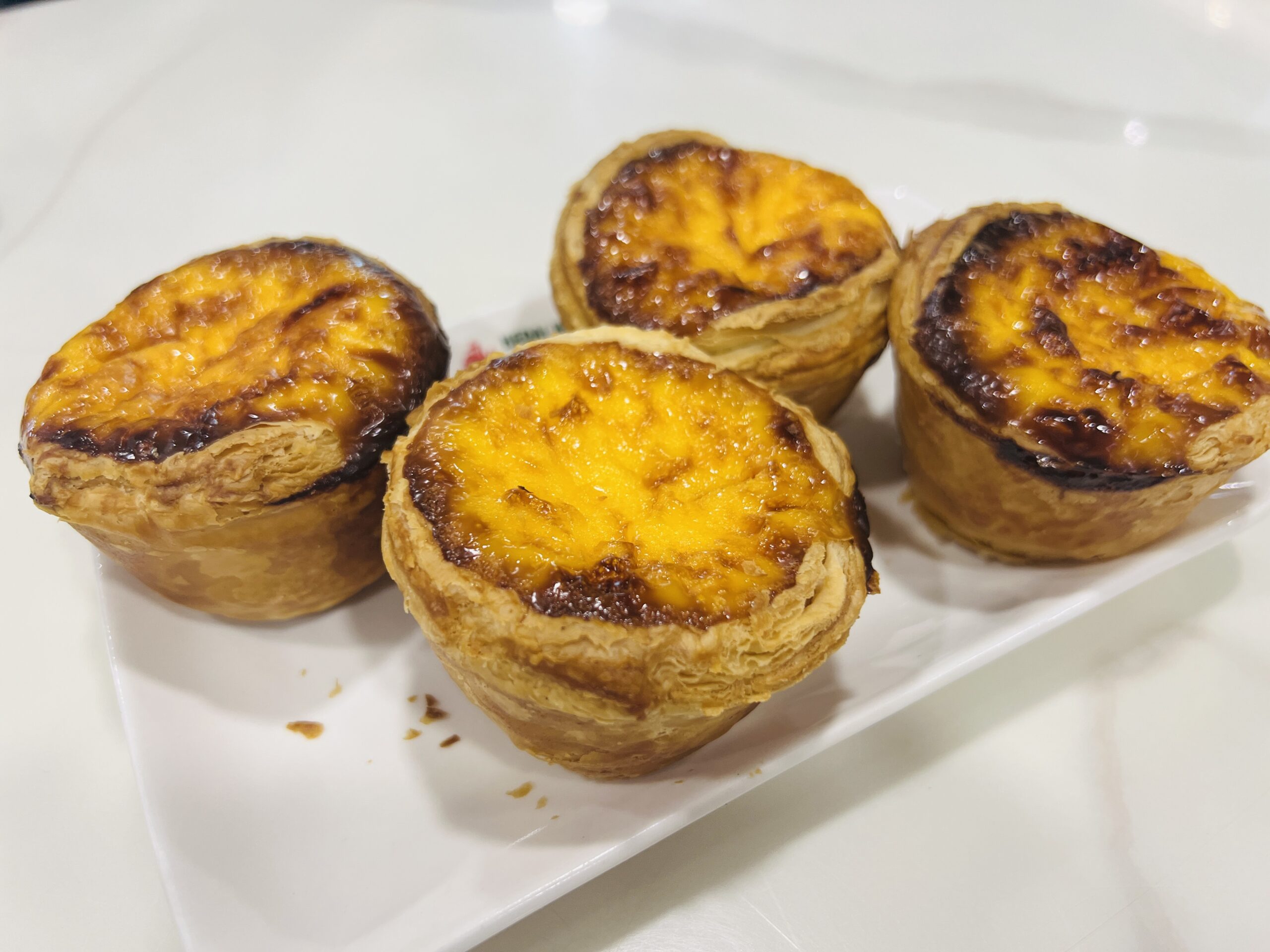 Another signature here is their Oriental Egg Tart 华阳脆皮蛋挞 [RM37.60] which supposedly has 128 layers.
I'm not sure about the 128 layers but I agree with the Malaysia Book of Records which gave it the "Thickest Egg Tart" title. This is definitely the thickest egg tart I have ever seen, measuring 6 centimetre in depth. The eggy custard combined with flaky pastry skin makes this such a delicacy.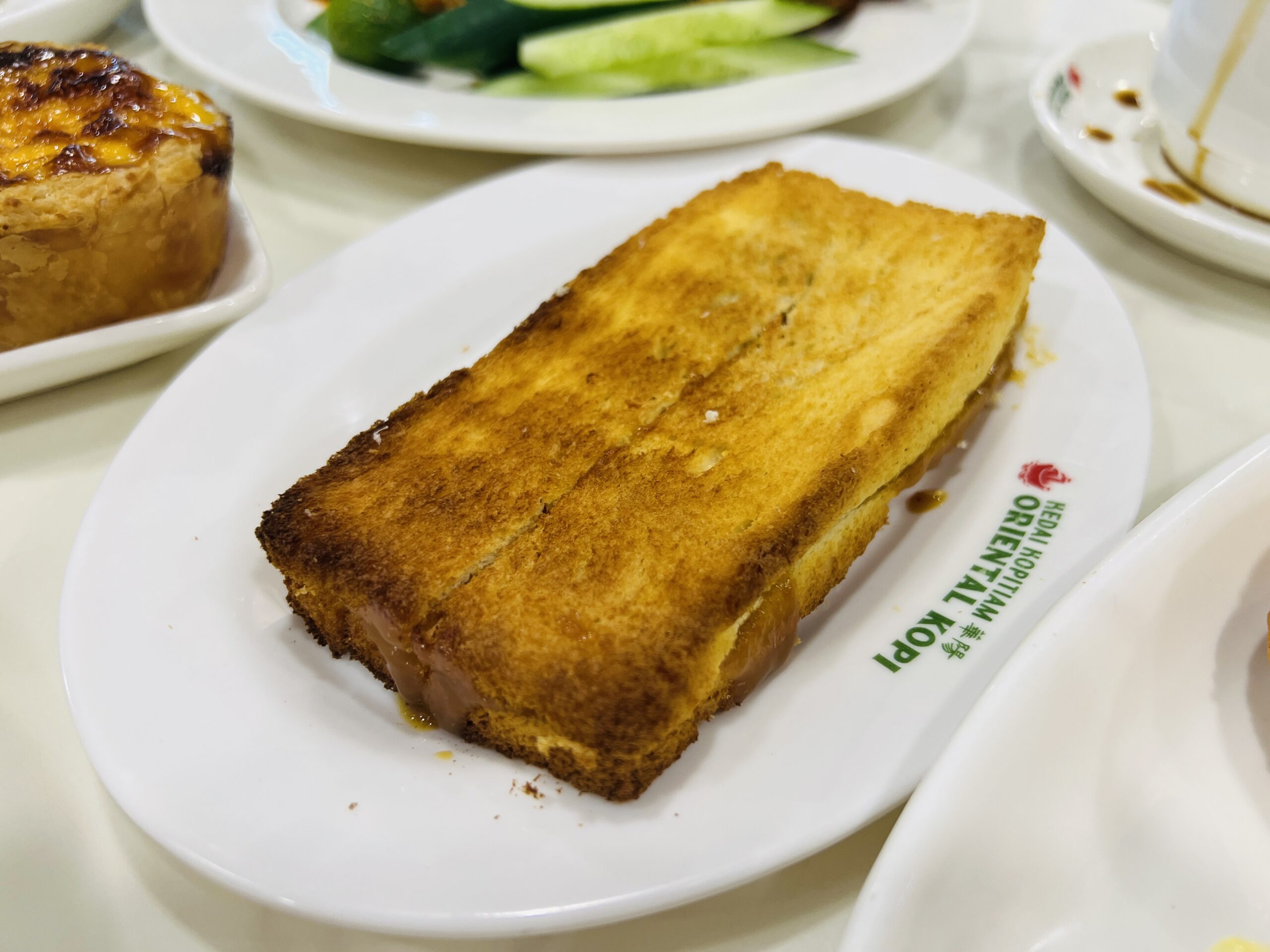 Even the classic Kaya Butter Toast 咖椰牛油烤面包 [RM5.50] tastes better her with the thick slabs of butter.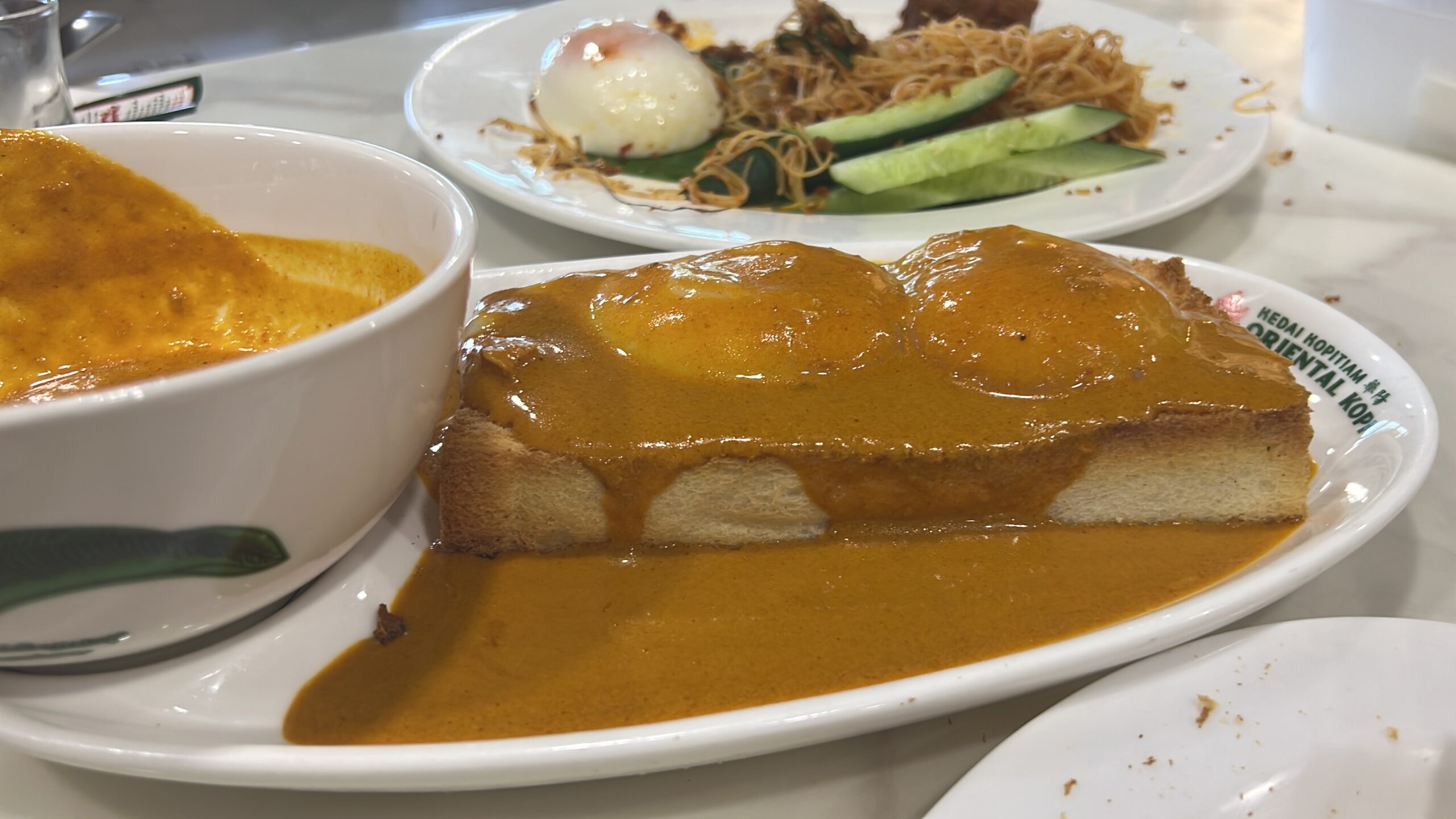 We also tried Curry Double Lava Egg Toast 咖喱双蛋烤面包 [RM8.90] which comes with two half-boiled eggs on a piece of toasted thick toast. Pour the accompanying bowl of fragrant curry and mix the egg yolk with the curry for an interesting toast.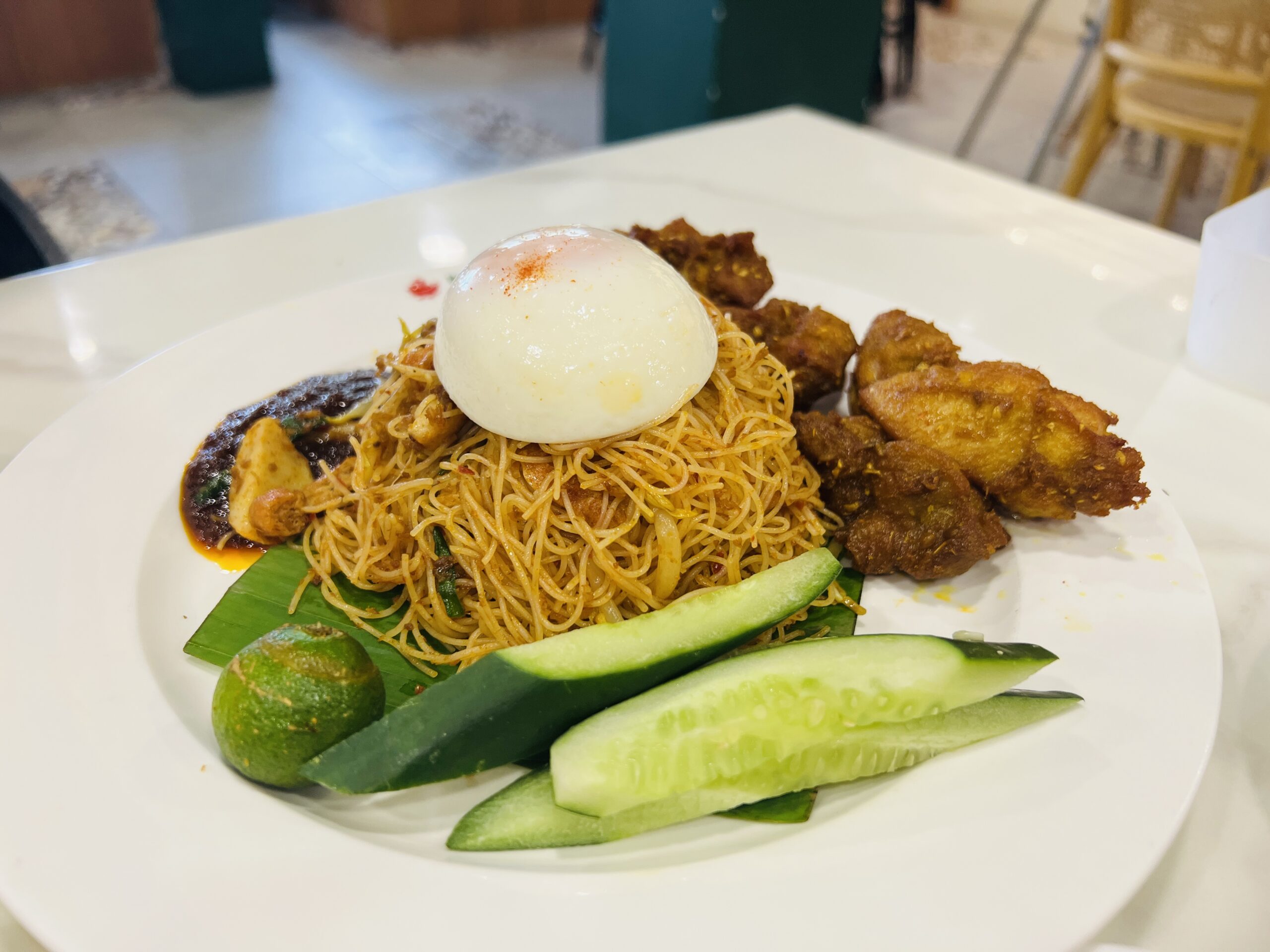 Oriental Signature Mee Siam 华阳经典米暹 [RM18.90] is every bite as good as we expected. Every strand of the dry-fried mee siam is coated with the sweet and sour assam (tamarind) gravy. It comes with pieces of fried chicken which tastes surprisingly like chicken satay and a sunny side-up egg.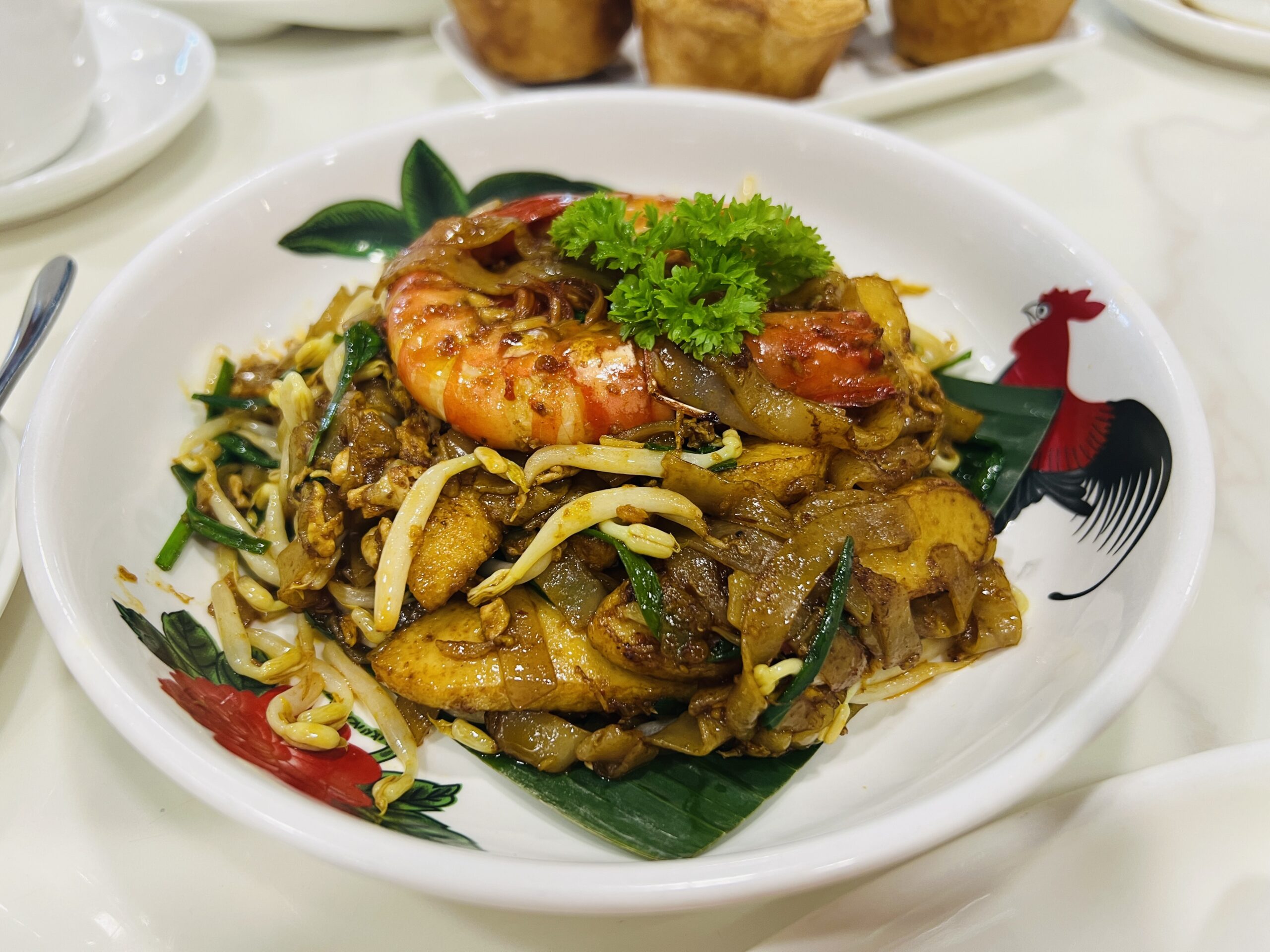 Even though Penang Char Kuey Teow 槟城炒粿条 [RM17.90] is not a signature, this plate of kuey teow full of delicious smokiness will taste even better if there are cockles.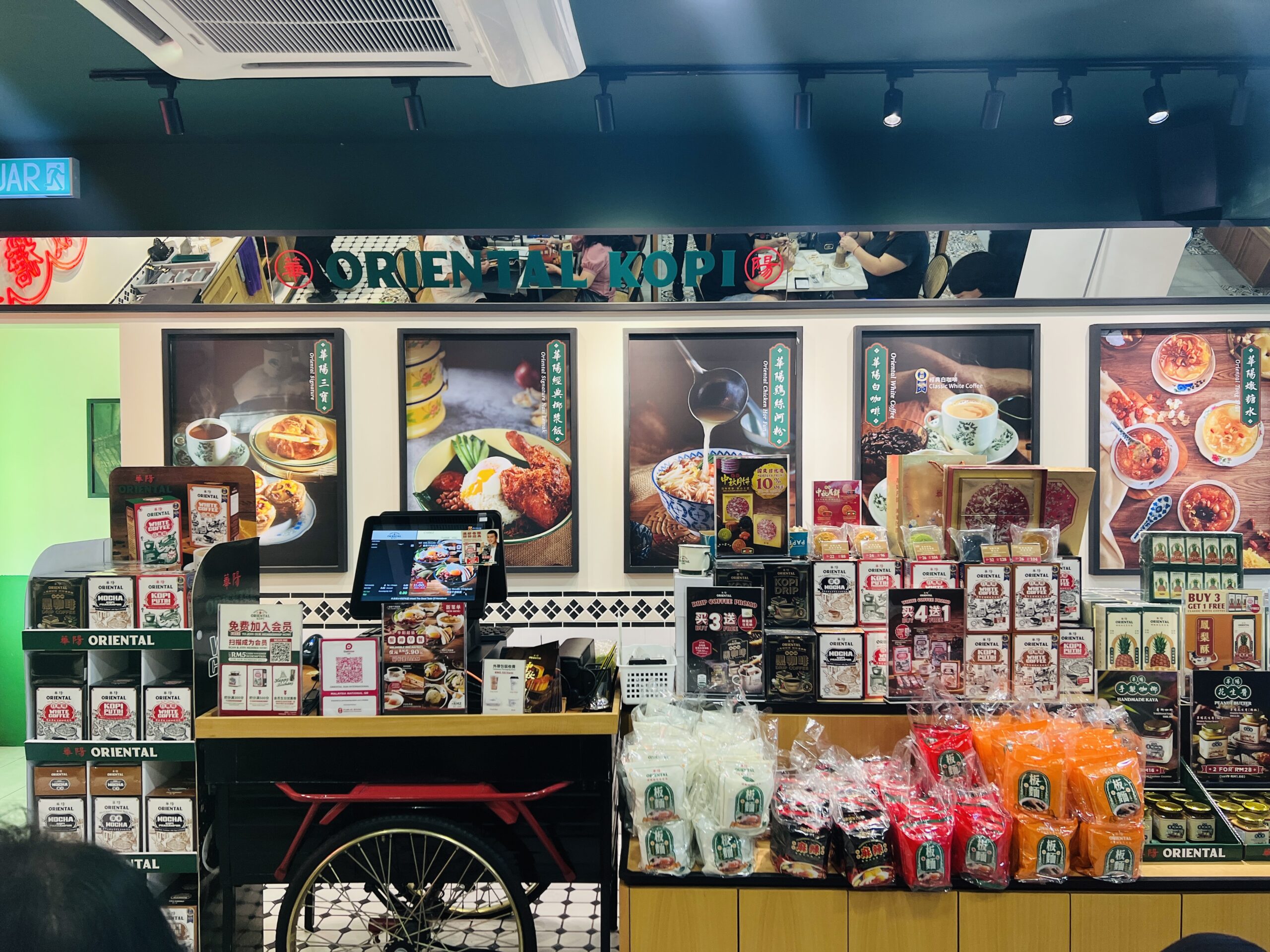 You will be split for choice when it comes to drinks. Oriental Kopi is famous for their Oriental Kopi [RM7.31] and Oriental White Coffee Roasted [RM9.90] and many others. You can buy boxes of different coffee flavours which make for wonderful souvenirs for family and friends.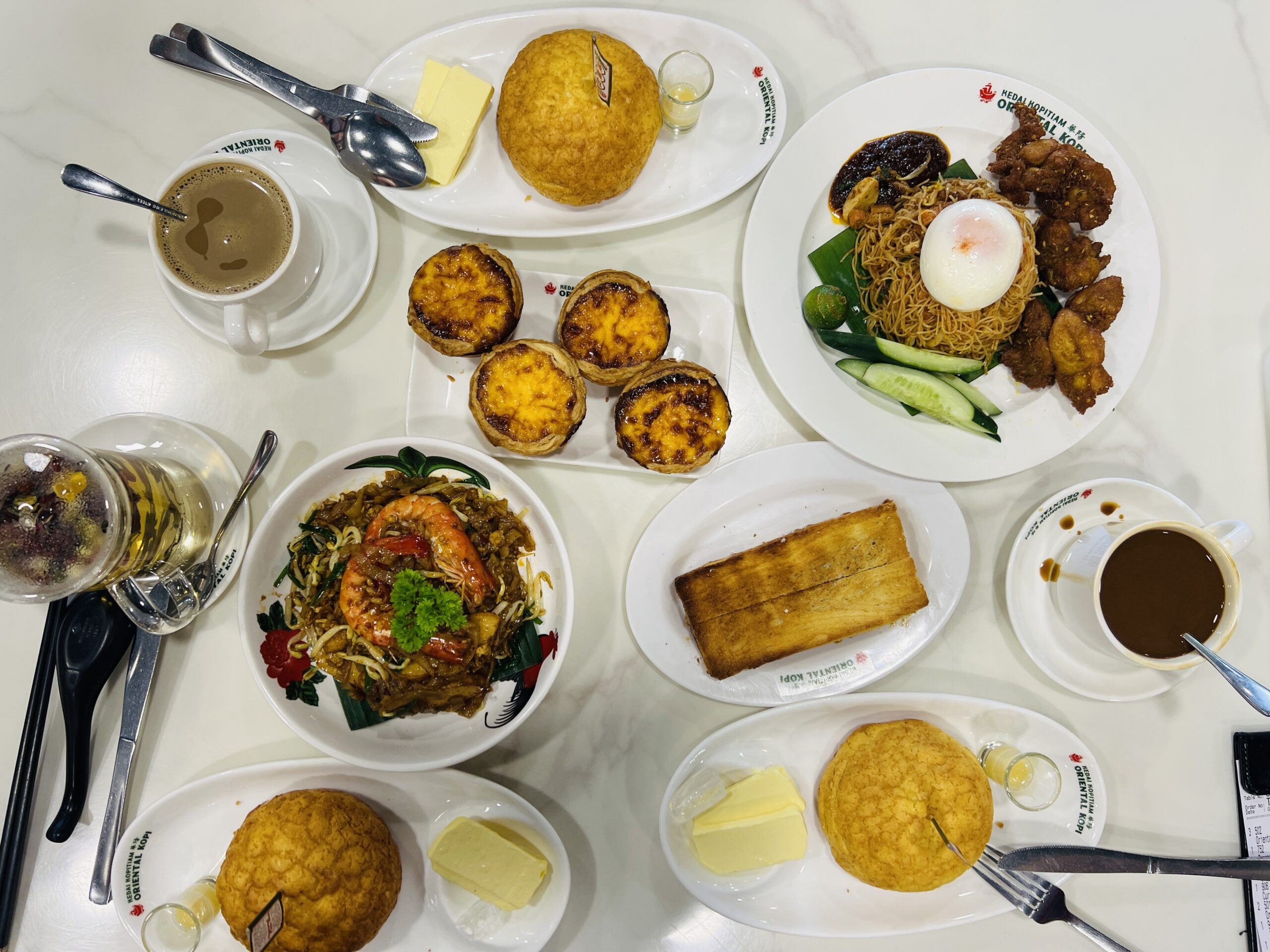 Oriental Kopi
You can find the addresses, opening hours and telephone numbers of all 9 Oriental Kopi outlets in Malaysia here.