After depositing our bag at Piggy House Kukup Chalet, we made our way to Kedai Minuman Ah Kneong for dinner.
Kukup is a fishing village known for the houses on stilts, connected by narrow concrete pavements. Kedai Minuman Ah Kneong is converted from a stilt house, it's humble-looking with a dark-blue signboard.
This restaurant is a family business, the youngsters take orders and serve food while the seasoned chefs cooks non-stop at the stoves in front of the restaurant.
Most of the patrons are locals. A table of school children in school uniforms sat at the table next table while the table behind us was a family.
The Food
The menu has only 4 pages, with lots of emphasis on fresh seafood from the surrounding sea.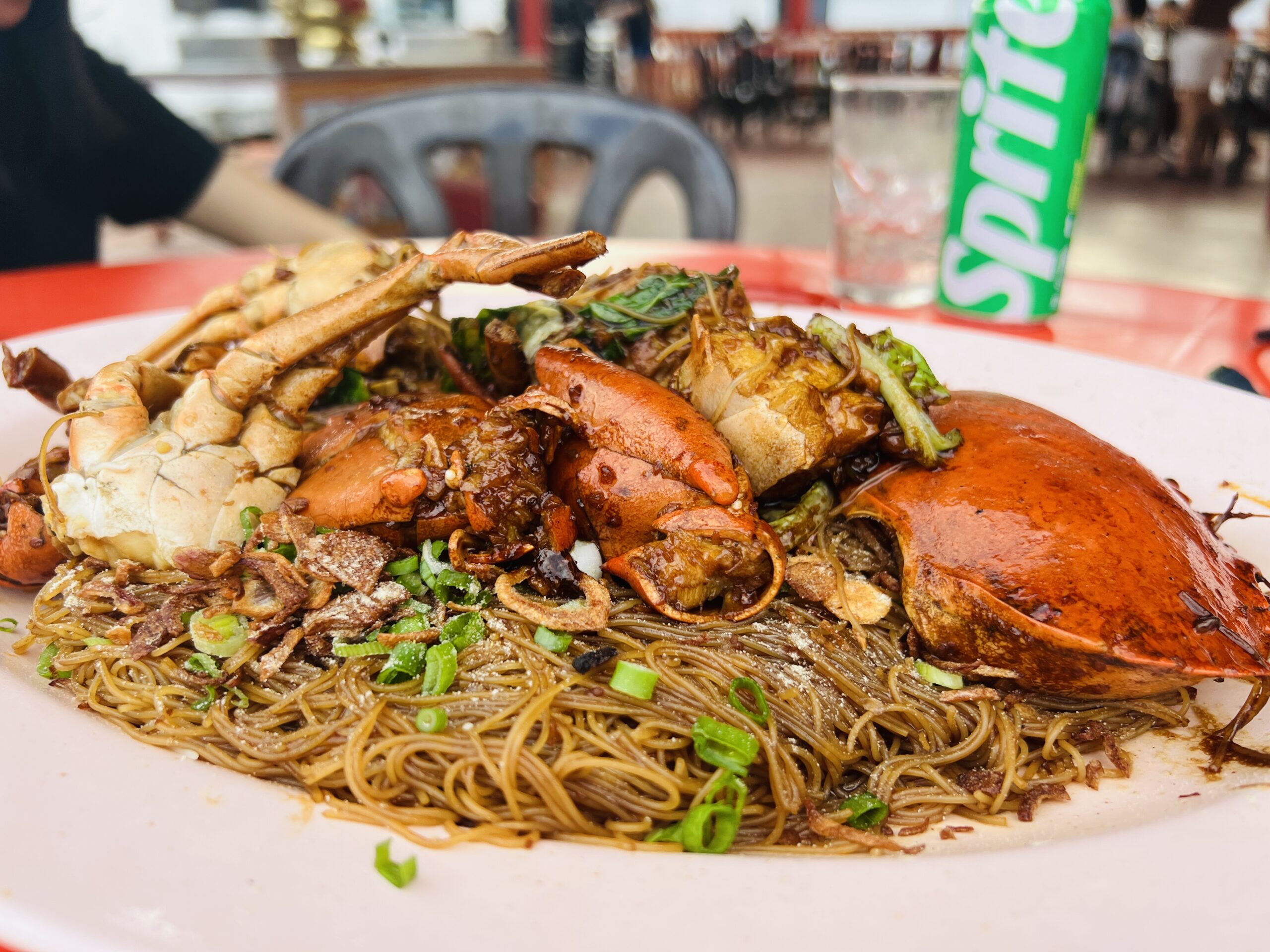 Fried Crab Meehoon 螃蟹米粉 [market price] is one of the signature dish here and it's not difficult to see why.
The bee hoon and even the crab is aromatic and full of smoky wok hay. The crab has firm and succulent flesh.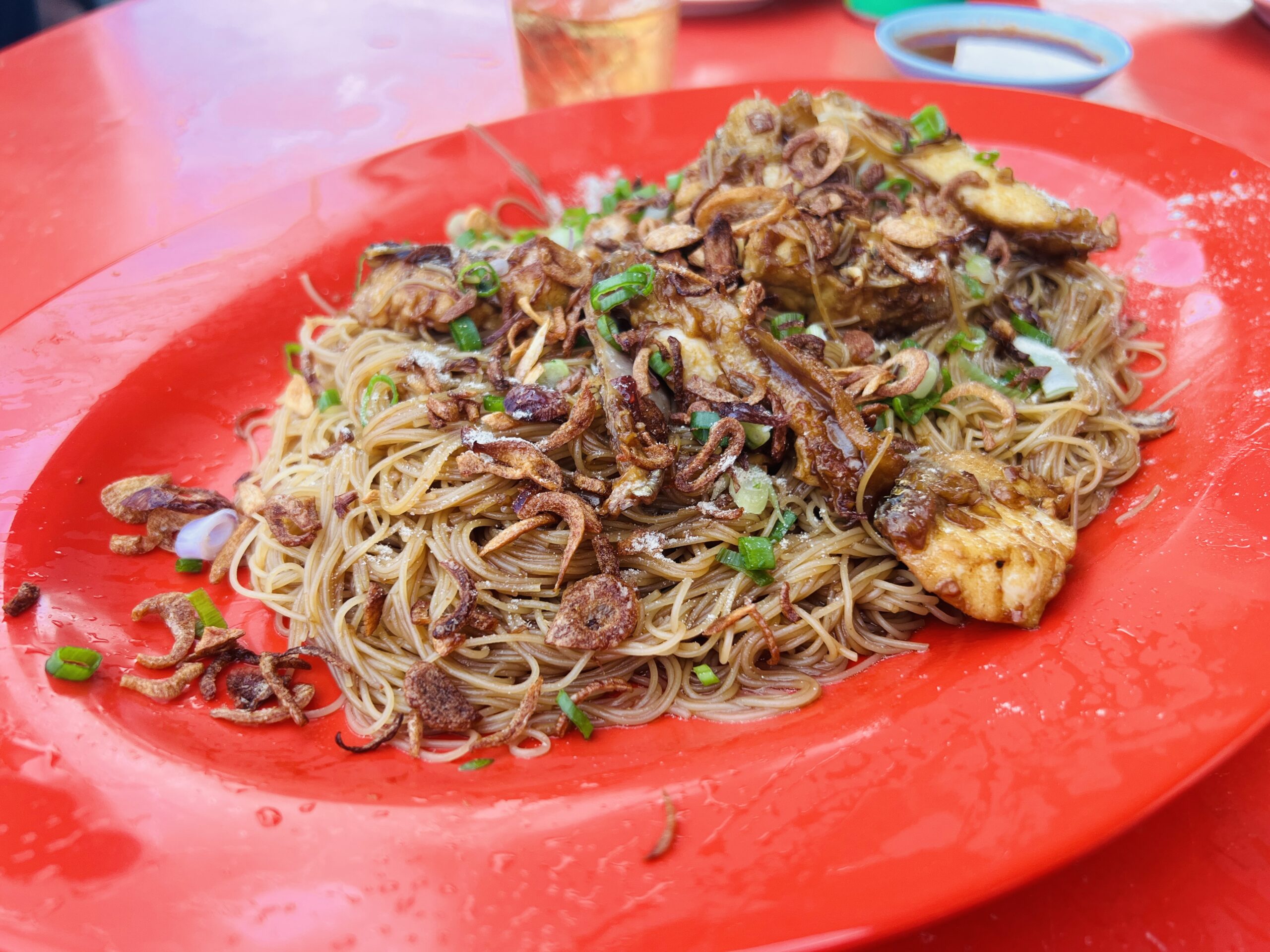 We also ordered Fried Harpoon Spadefish Meehoon 中江鱼米粉 [RM20/28/36] which happens to be another signature dish.
The bee hoon has the same smoky wok hay, sautéed together with pieces of harpoon spadefish. The accompanying fried shallots, garlic and anchovies gives this dish an explosion of flavors.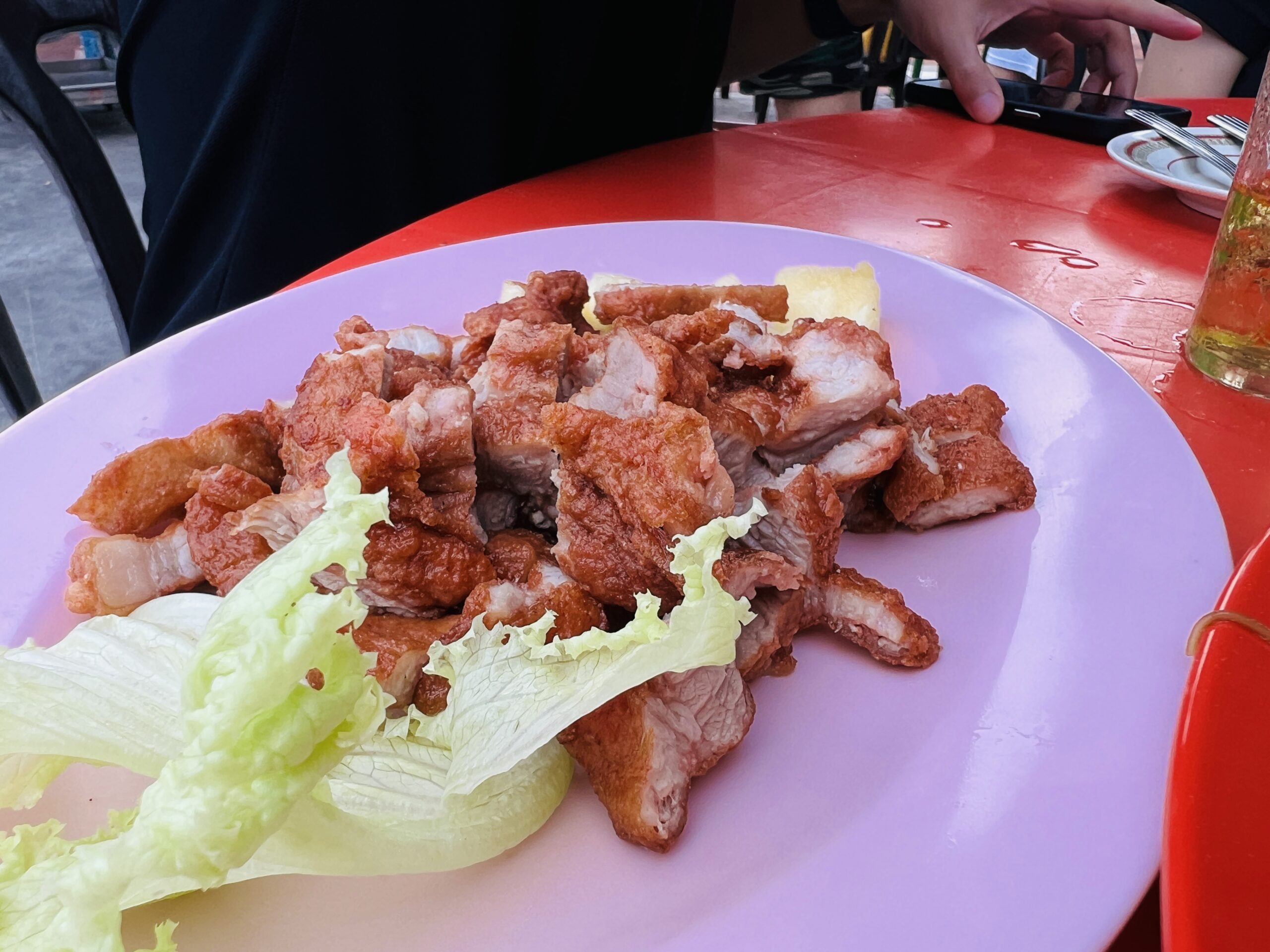 I wasn't prepared for how addictive Deep Fried Pork Bellies 南乳炸花肉 [RM25] tastes. The pork belly is marinated in fermented beancurd which gives it a complex taste and deep-frying seals in all the juice. It's not oily at all and it's the perfect accompaniment to beers.
Steamed Prawn 清蒸虾 [market price] looks simple but the freshness of these sea prawns make all the difference. These prawns are so sweet and crunchy, they are a far cry from the tasteless prawns we are used to. The prawns are steamed on a bed of egg white, all that prawn juice goes so well with steamed rice.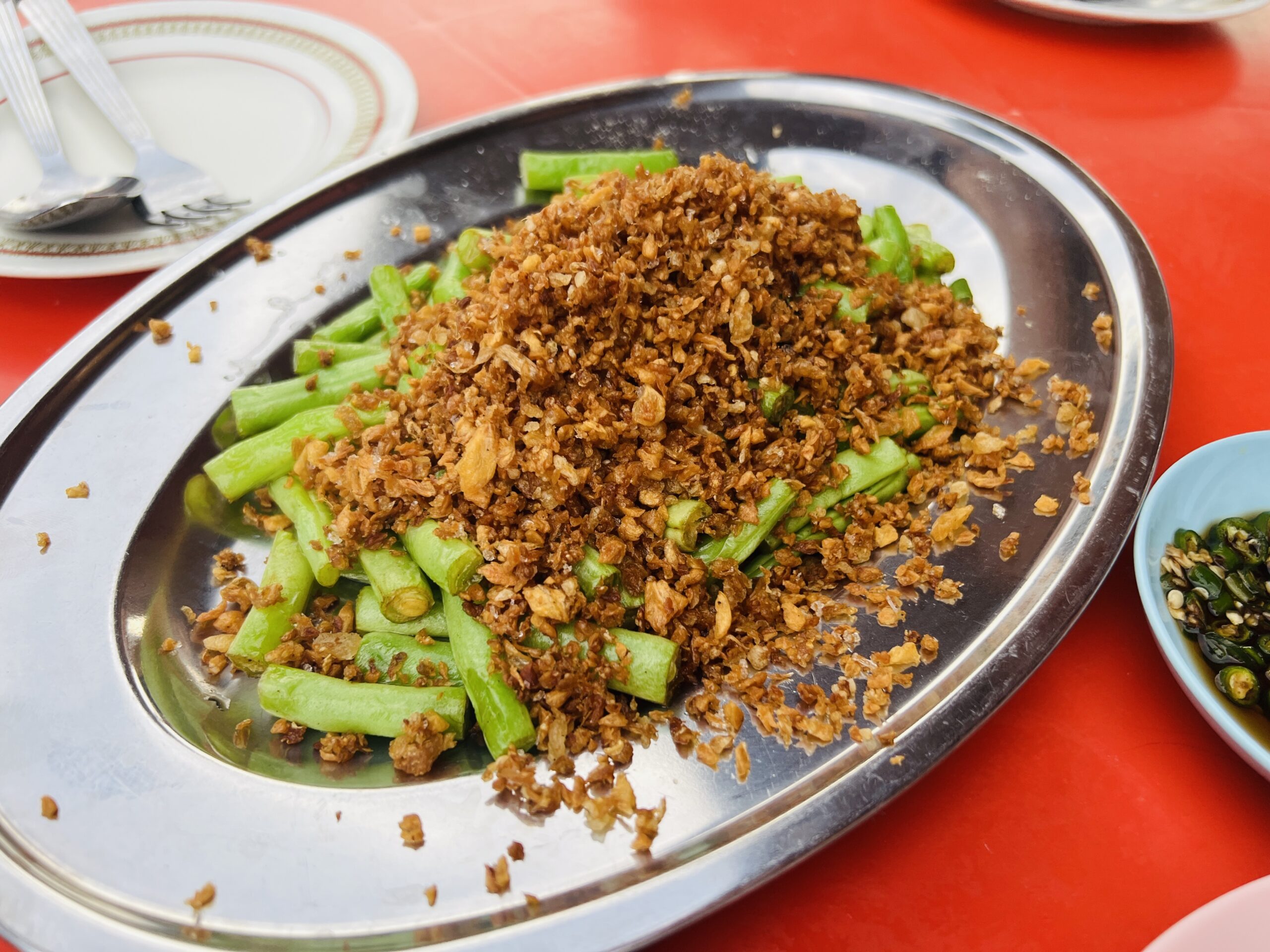 For vegetable, we ordered Dried Radish with French Bean 菜脯四季豆 [RM16]. The dried radish are fried till golden, they look like small flecks of gold on crispy-green french beans. The sweet french beans taste terrific with the slightly salty golden nuggets of dried radish.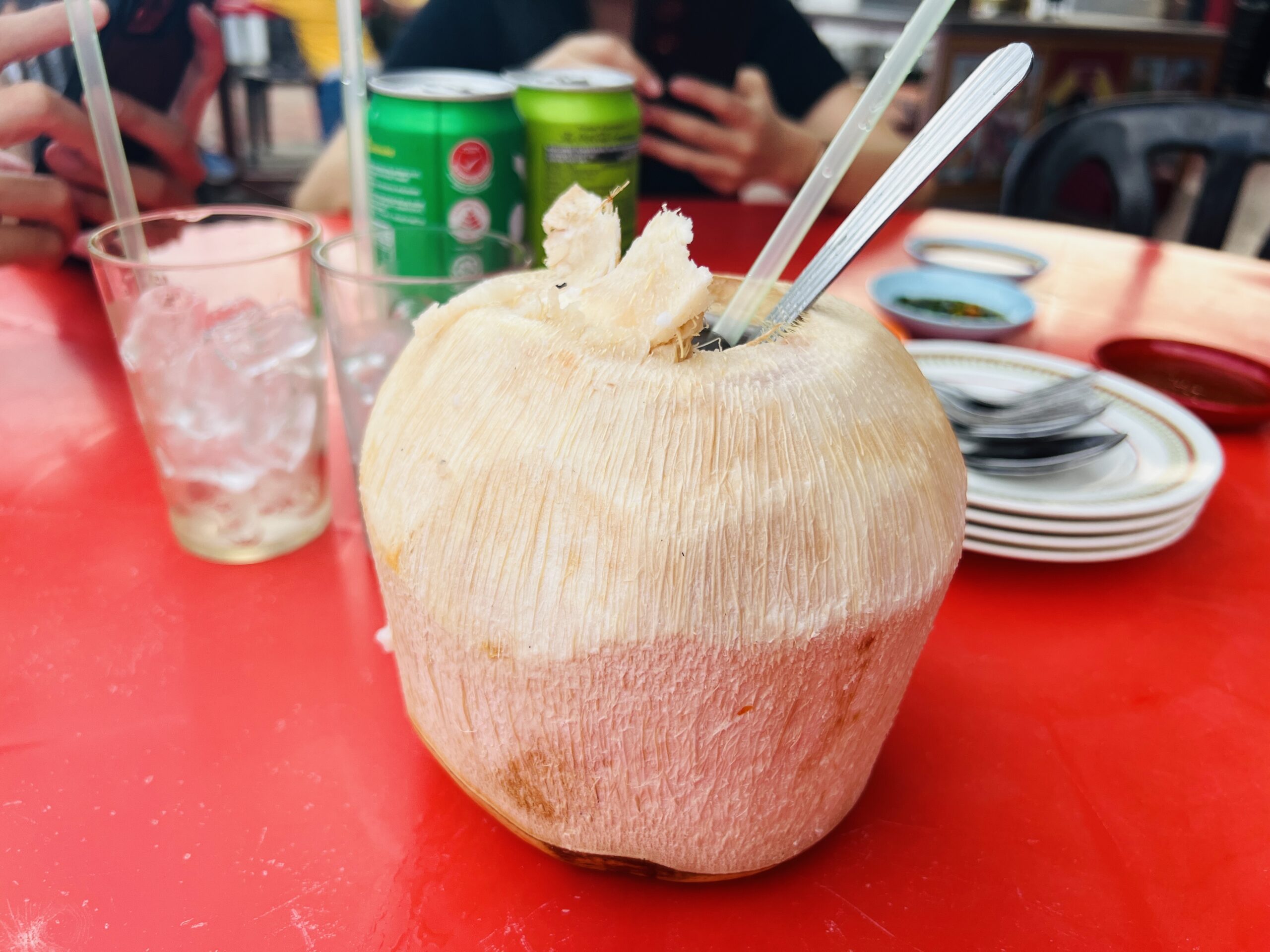 They have the usual beers and soft drinks, but I strongly encourage you to get Coconut Water 椰子水 [RM6] if you are eating seafood. The refreshingly-cold sweet coconut water makes the seafood taste even better than it already is.
Conclusion
Kedai Minuman Ah Kneong is really the best hidden gem of a restaurant in Kukup. The freshness of the seafood, the skill of the chef and cheap prices are just unbeatable.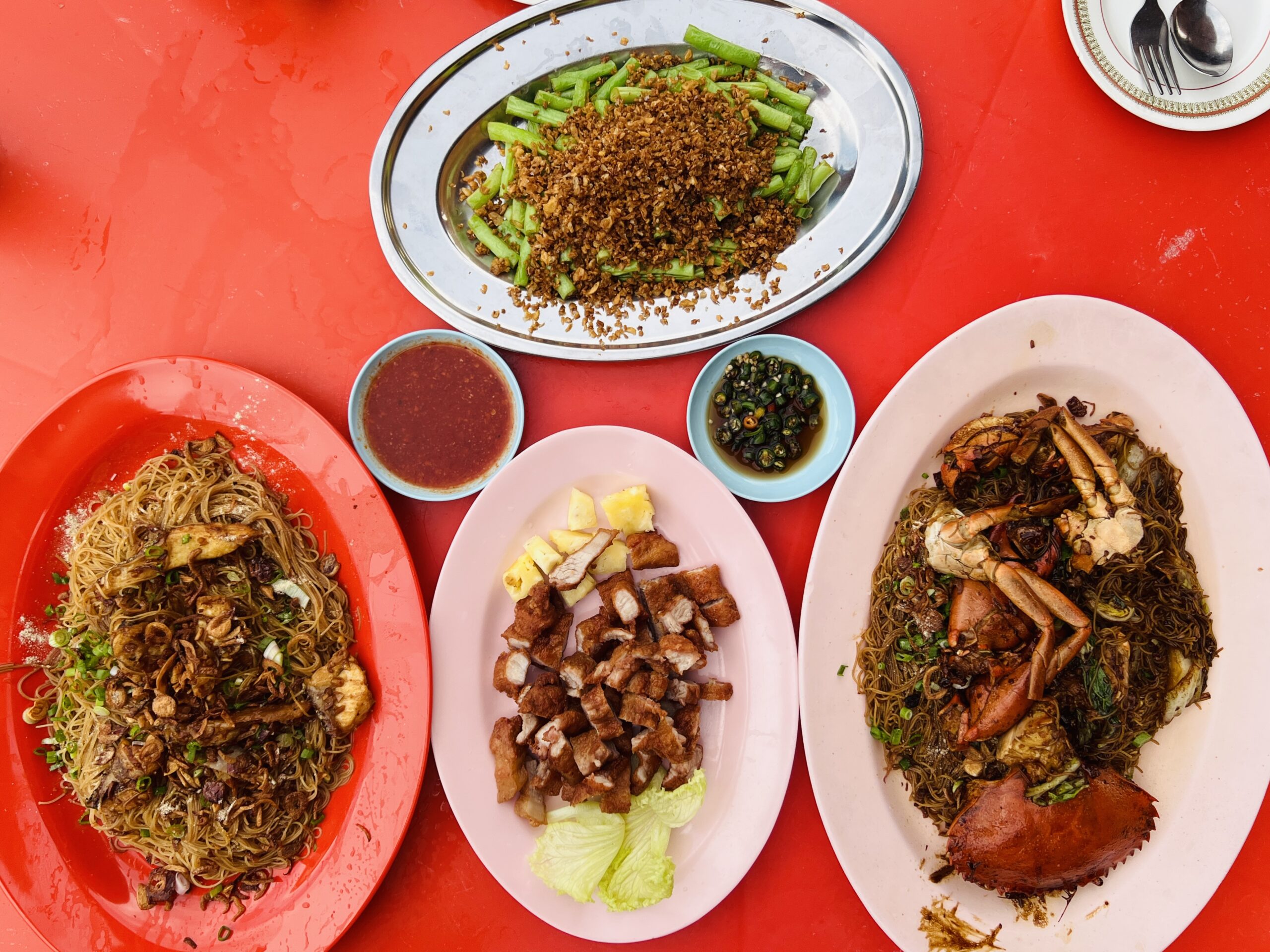 Kedai Minuman Ah Kneong
Address: 82300 Kukup, Johor, Malaysia
Telephone: +6076960930
Opening Hours: closed on Tuesdays, Monday – Sunday 4pm – 8.30pm