If you are in Nuremberg and you don't know where to eat, the place to be is Bratwursthausle. Bratwursthausle is the oldest restaurant in Nuremberg, with history dating back to 1312. Their in-house butchers makes the bratwurst fresh everyday following a traditional recipe.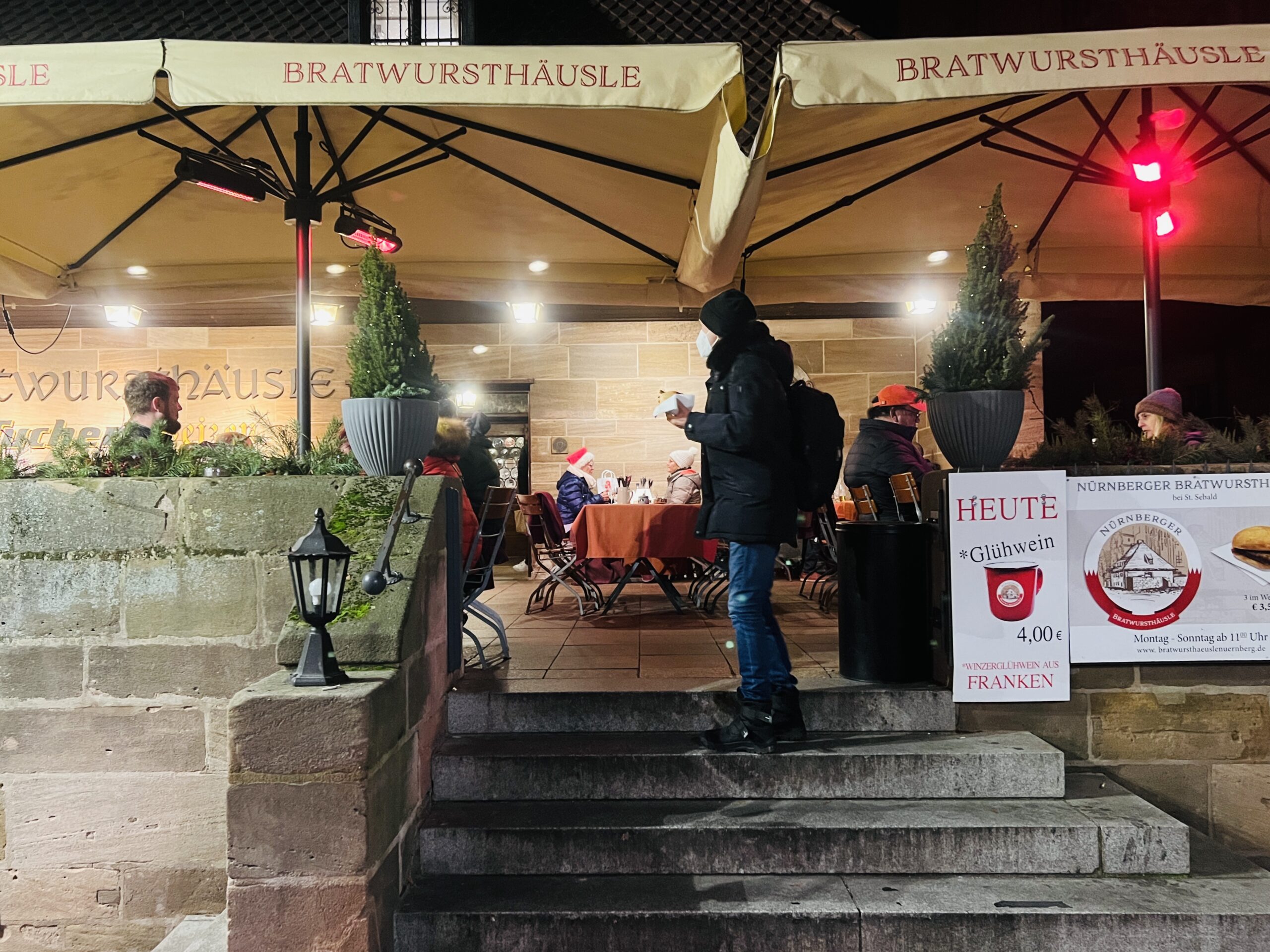 This restaurant is in the heart of Nuremberg, the terrace offer breathtaking view of the historical surroundings. From the restaurant, you can see the Town Hall, St. Sebaldus Church and everythings that happens on the main market square. You can reach the famous Imperial Castle in just a few minutes by foot.
Interior
The inside of Bratwursthausale is warm and comfy, thanks to all the wooden furnishings which helps to trap heat.
The open-concept kitchen is right in the middle of the restaurant, with a beech wood grill at the back where their famous Franconian sausages are grilled to perfection.
What to Eat?
Bratwursthausale doesn't serve German food per se, this restaurant specializes in Franconian food, the region where Nuremberg is located. Franconian food is a subtype of German cuisine with many similarities to Bavarian cuisine and Swabian cuisine.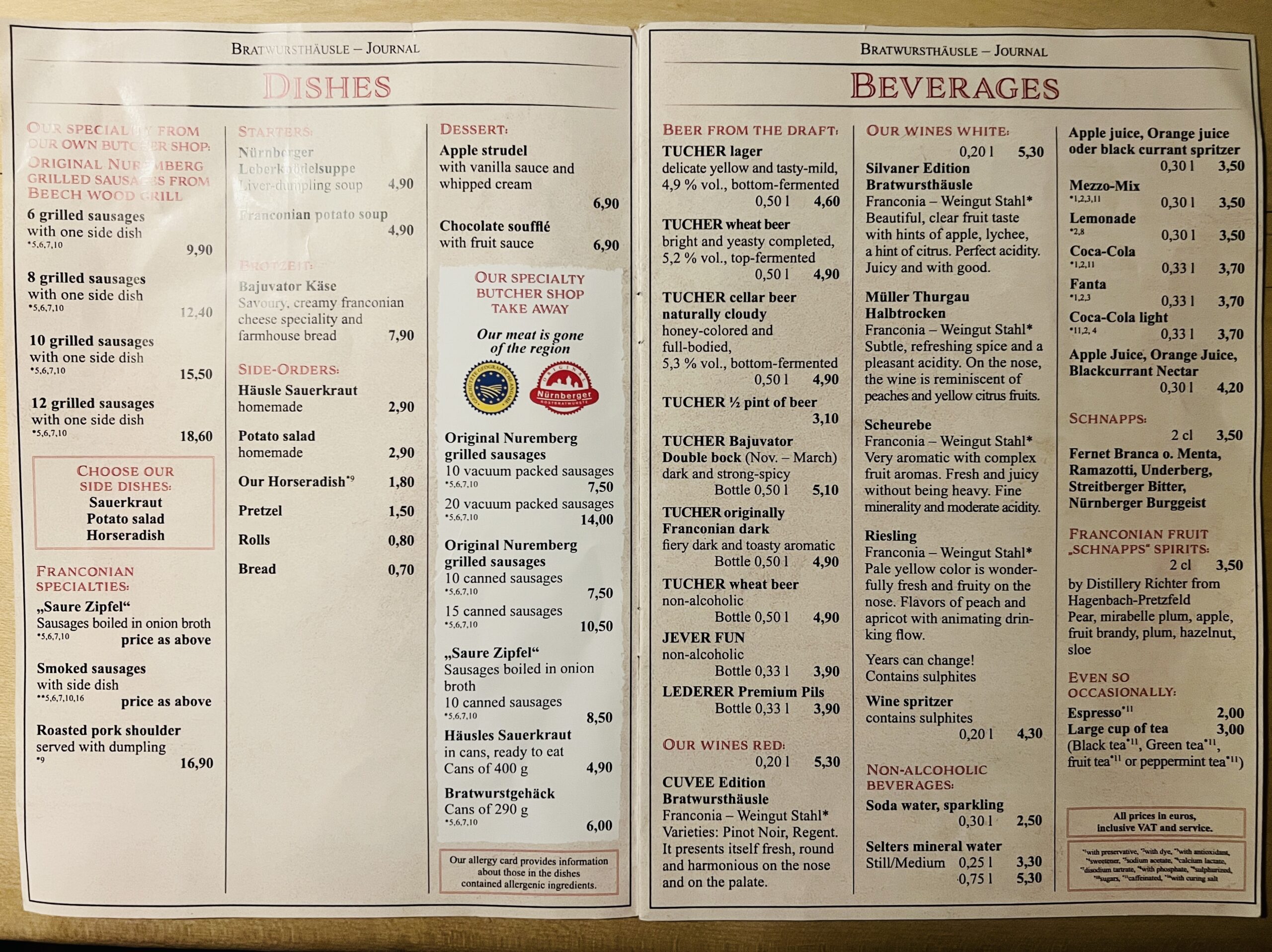 This is their menu for your reference.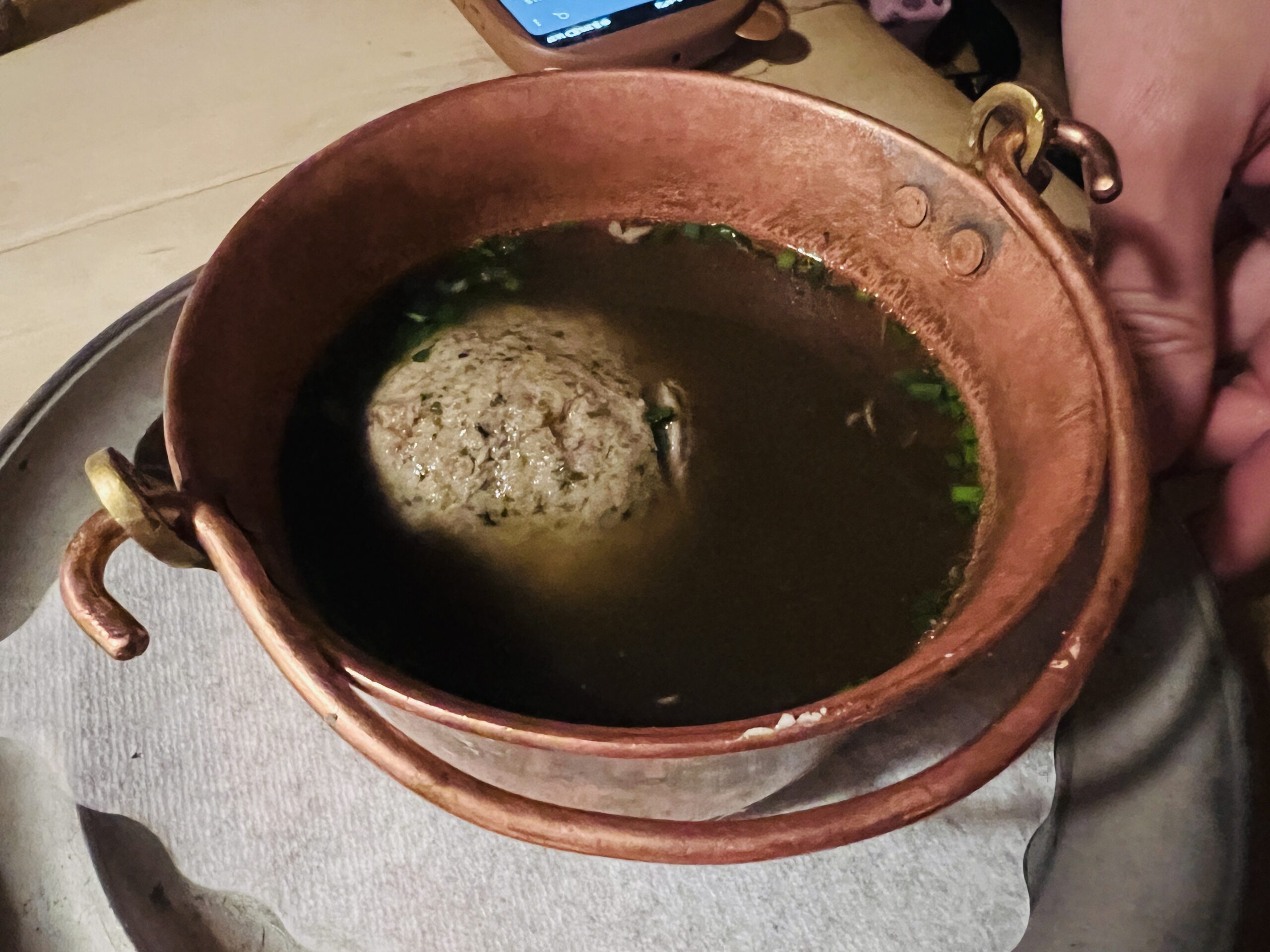 Nürnberger Leberknödelsuppe [€4.90] which is liver dumpling soup, is not for the faint-hearted. The liver dumpling ball is served in a clear onion soup which does nothing to disguise the gamey smell of the organ meat.
When in Bratwursthausel, you have to try their famous Original Nuremberg Sausages [€9.90 for 6 sausages, €12.40 for 8 sausages, €15.50 for 10 sausages, €18.60 for 12 sausages].
These sausages are much smaller than the usual bratwurst sausage in other parts of Germany. Each sausage is only slightly thicker than my finger. These babies are grilled till slightly charred, the meat is so tender and tasty.
You can choose from Sauerkraut, Potato Salad and Horseradish for the side dish. Even though Franconian sausages are traditionally eaten with sauerkraut, but the Potato Salad was slightly sourish which helped to cut through all the grease.
Braised Pork Shoulder [€16.90] is pretty similar to the one we had at U Tri Zlatych Hvezd with the same doughy dumpling. The meat is so tender, it falls off the bone at the touch of the fork.
The Apple Strudel [€6.90] was the perfect finish to the meal. The warm apple strudel in vanilla sauce and whipped cream is just heavenly.
What to Drink?
Nuremberg not only has Franconian sausages and gingerbread, it is also home to one of the oldest beer brands in Germany. Tucher has been brewing bottom-fermented beer for 165 years since 1303.
When dining at Bratwursthausle, the perfect accompaniment to the sausages and meat is a pint of Tucher Lager [€4.60]. This beer has a delicate yellow color and a mild malty taste. It has only 4.9% alcohol., so it's easy to drink.
There are many other varieties of Tucher beer such as Tucher Wheat Beer [€4.90] which has a more yeasty taste. There is even a non-alcoholic version Jever Fun [$3.90] which tastes like beer but does not contain any alcohol.
Bratwursthausle
Address: Rathausplatz 1, 90403 Nuremberg, Germany
Telephone: +49 911227695
Opening Hours: Monday – Saturday 11am – 10pm, Sunday 11am – 8pm