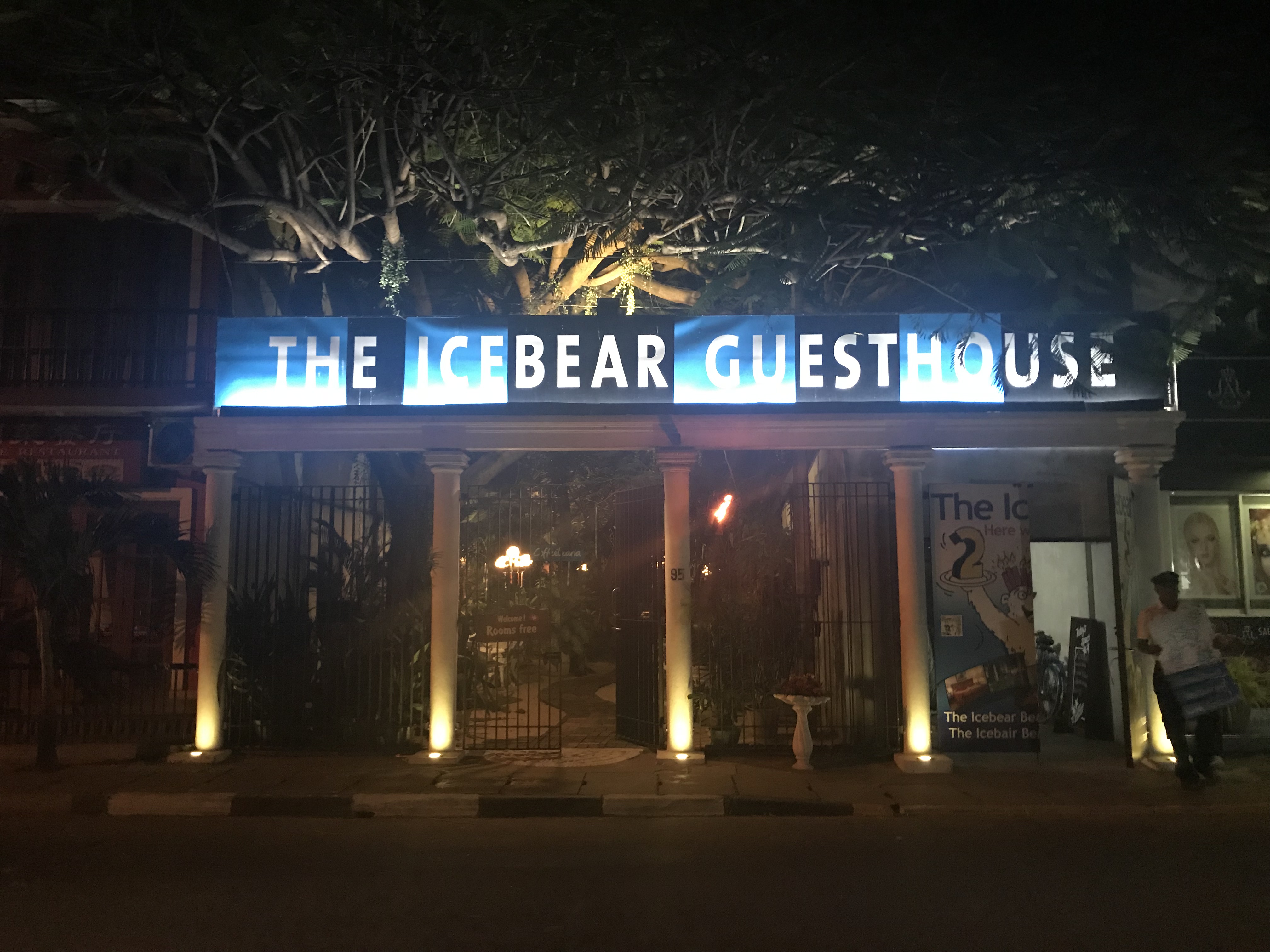 What drew my girlfriend and I to this restaurant are the torches that line the pathway leading to the restaurant. It gives the restaurant an exotic feel, as if we are wondering into the wildness. At the same time, there is a certain romantic atmosphere to the place. 
The Icebair Beach Restaurant is part of The Icebear Guesthouse, a budget beach resort.
The Icebair Beach Restaurant specializes in Swiss cuisine, which is pretty unusual in Sri Lanka. This is because the owner, Mr. Balser, is a Swiss. He started running his private guesthouse 25 years ago as a hobby. The guesthouse is currently run by resident manager Mr. Cristi and receptionist Mrs. Praba. 
The salt and pepper is served in this pretty leaf-shaped saucer. 
Spice Wine [Rs 380] is a beverage commonly found in European countries. It is usually served as a hot beverage during the Christmas holiday to combat the cold. The Icebair Beach Restaurant's version is served cold on the rocks, made by housewives from milk. It has a strong spice and cinnamon taste which is very unique. 
If you have no idea what to order, the Cheese Omelette [Rs 980] should be a safe choice. Shredded vegetables such as carrots and onions are mixed with cheese and egg into this tasty omelette. Served with toast, for some reason. 
Since we are in Negombo which is by the sea, we decided to have some seafood. Mixed Fresh Sea Food [Rs 1900] sounds like a seafood fiesta but we were pretty disappointed. There are prawns, squid rings, ocean crabs, and tuna in the platter. The squid rings and tuna are quite alright, tender and juicy. The prawns are miserably-small and the ocean crabs are just plain pathetic. Sri Lanka is supposed to be famous for the Sri Lanka crabs, you know those huge with huge claws? The ocean crabs we got are really flower crabs, and very small ones at that. 
Ending our meal with a plate of Tropical Fruits [Rs 720]. Our plate consisted of bananas, guava, starfruit, papaya, watermelon and passionfruit. The menu promises at least 5 types of tropical fruit, but we were given 6 types. 
If I ever visit Negombo again, I will definitely stay at The Icebear Guesthouse. The rooms look really nice (on the website, although I have no idea what they look like in reality). Of course you can find many beautiful hotels on Agoda along the beach, but I like the uniqueness of a private guesthouse. Hopefully I will have a better dining experience at The Icebair Beach Restaurant then. 
I realize I have a knack for finding hidden gems. As I was doing research on The Icebair Beach Restaurant to write this article, I found out that The Icebair Beach Restaurant was awarded TripAdvisor's "Certificate of Excellence" for 2013, 2016 and 2018. You are in good hands.
The Icebair Beach Restaurant 
Address: 103/2 Lewis Place Ehtukala, Negombo 22100, Sri Lanka
Telephone: + 94 31 2 in 233862 
Website: http://www.icebearhotel.com/restaurant/"