My travel companions and I were in Dresden in early December when it was starting to get chilly. We were looking for a place to escape the cold so we ducked into the nearest restaurant. The restaurant turned out to be ALEX Dresden at the Castle.
ALEX was established in 2004 and it has since become a popular restaurant chain in Germany with 39 outlets.
ALEX Dresden at the Castle has the perfect location. Not only is it located opposite Dresden Castle, it is along the main shopping street in Dresden. This is the perfect place to fuel up for a shopping spree or relax after a day of sightseeing.
ALEX Dresden at the Castle – Decor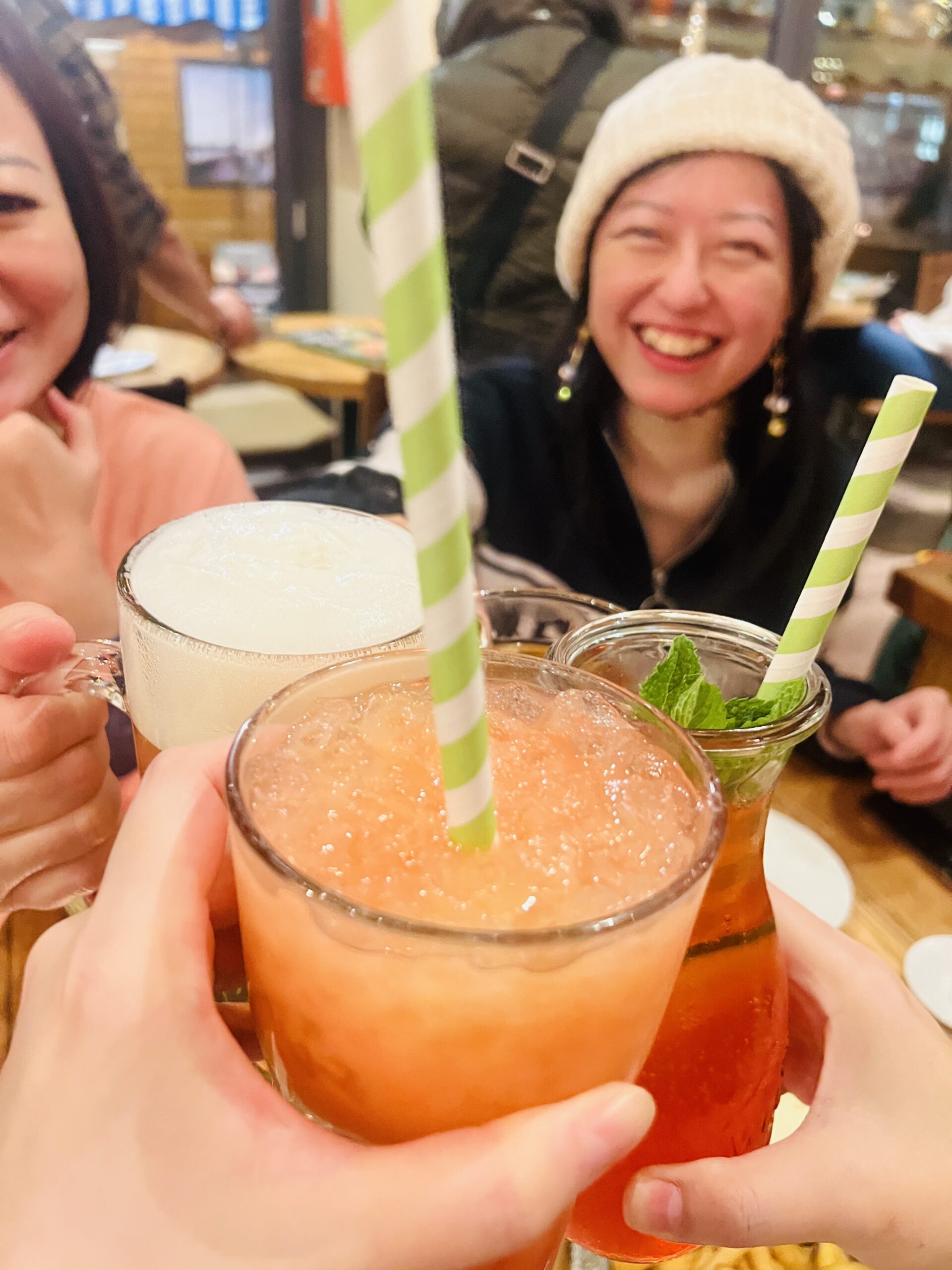 The earthen hues and warm yellow lighting makes this restaurant feel very cosy and warm. The wooden tables and chairs adds to the rustic charm.
The staff at ALEX Dresden at the Castle are what makes this place so welcoming. Every customer, no matter their nationality, is treated with warm hospitality and respect. There is one young pretty German waitress who really brightened our day with her smile.
ALEX Dresden at the Castle – Food
I love the colorful menu with lots of pictures to give me an idea of what I am ordering. There are all-you-can-eat breakfast buffets, burgers, pastas, steaks and everything in between. Here is the online menu for your reference. (I recommend viewing it in Google so it can auto-translate to your choice of language.)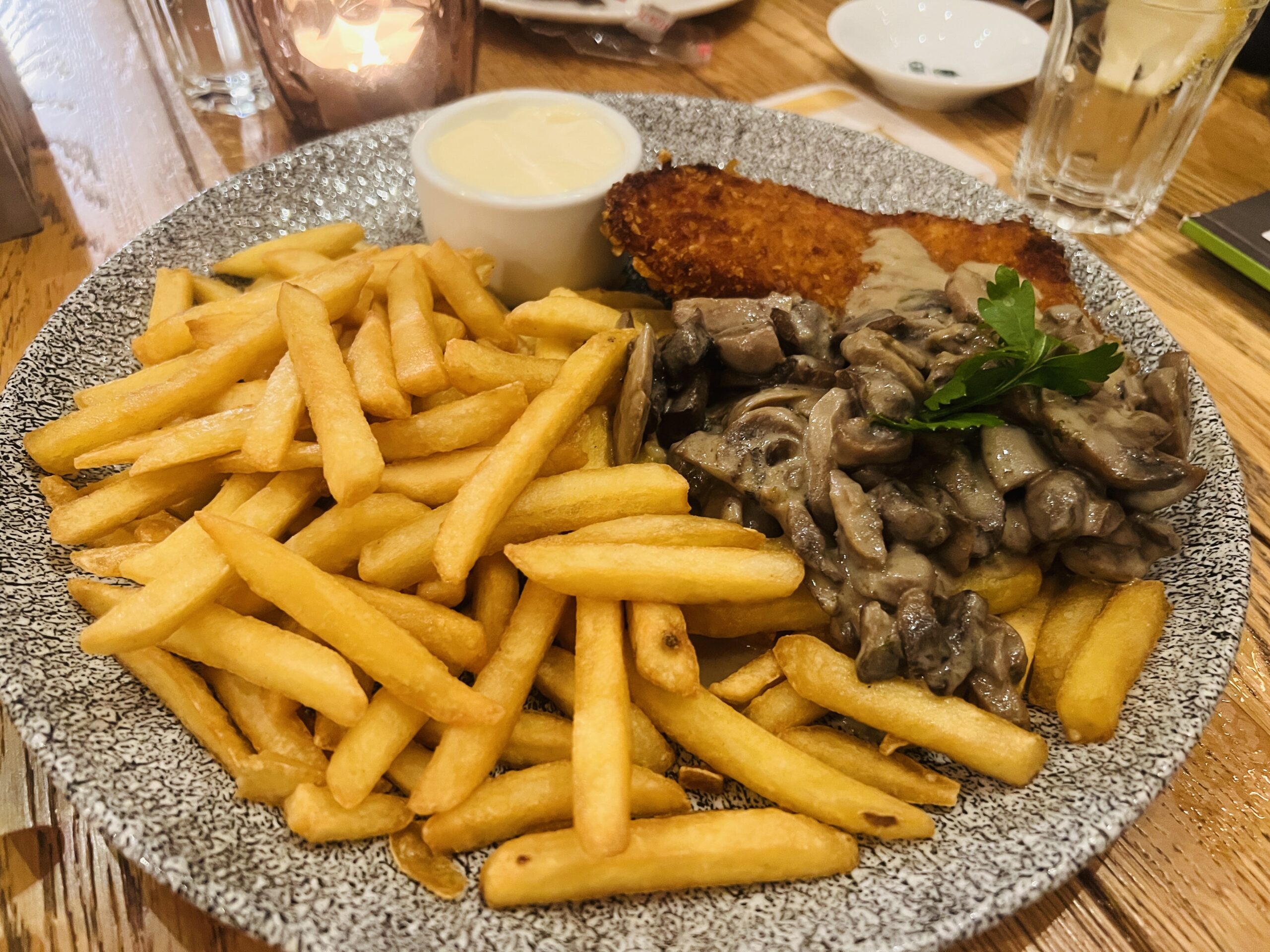 Schnitzel is one of the most iconic food in Germany and it is also a signature dish at ALEX. It is a thin piece of veal, pork, chicken, mutton, beef or turkey that is breaded and deep-fried.
ALEX has original Crispy Schnitzel [€10.80] and Crispy Chicken Schnitzel [€10.80] but I think Schnitzel with Mushrooms [€13.80] is even better.
The golden-brown piece of schnitzel is perfectly crispy yet so tender inside. The sautéed mushrooms are drenched with herb cream that makes the mushrooms taste fantastic. I do wish there were less fries, even though they are perfectly crispy.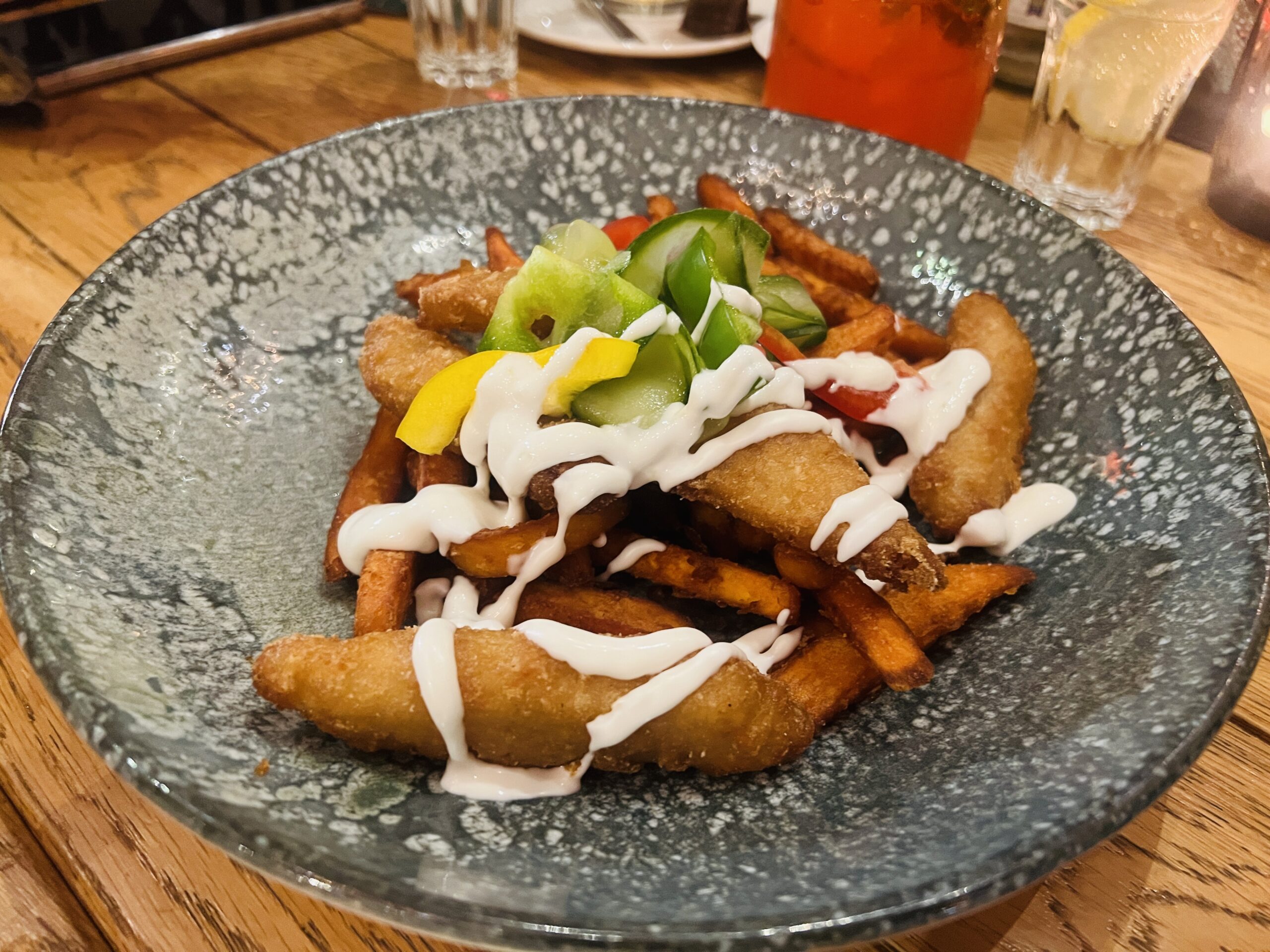 The Fish & Chips [€10.80], on the other hand, was quite a disappointment.
It might have been better to put different foods in different piles instead of throwing them all together. The coriander-lime mayonnaise tastes great with crunchy cucumber and bell peppers but weird with sweet potato fries. Tartar sauce would have been the perfect accompaniment to the fish fillets.
There are many vegan and vegetarian options in the menu as well.
ALEX Dresden at the Castle – Drinks
The food and drinks menu are separate.
If you have no idea what drink to order, Watermelon Lemonade [€6.20] is a good option. Instead of the usual lemonade, this one adds watermelon syrup so it is sweeter than usual.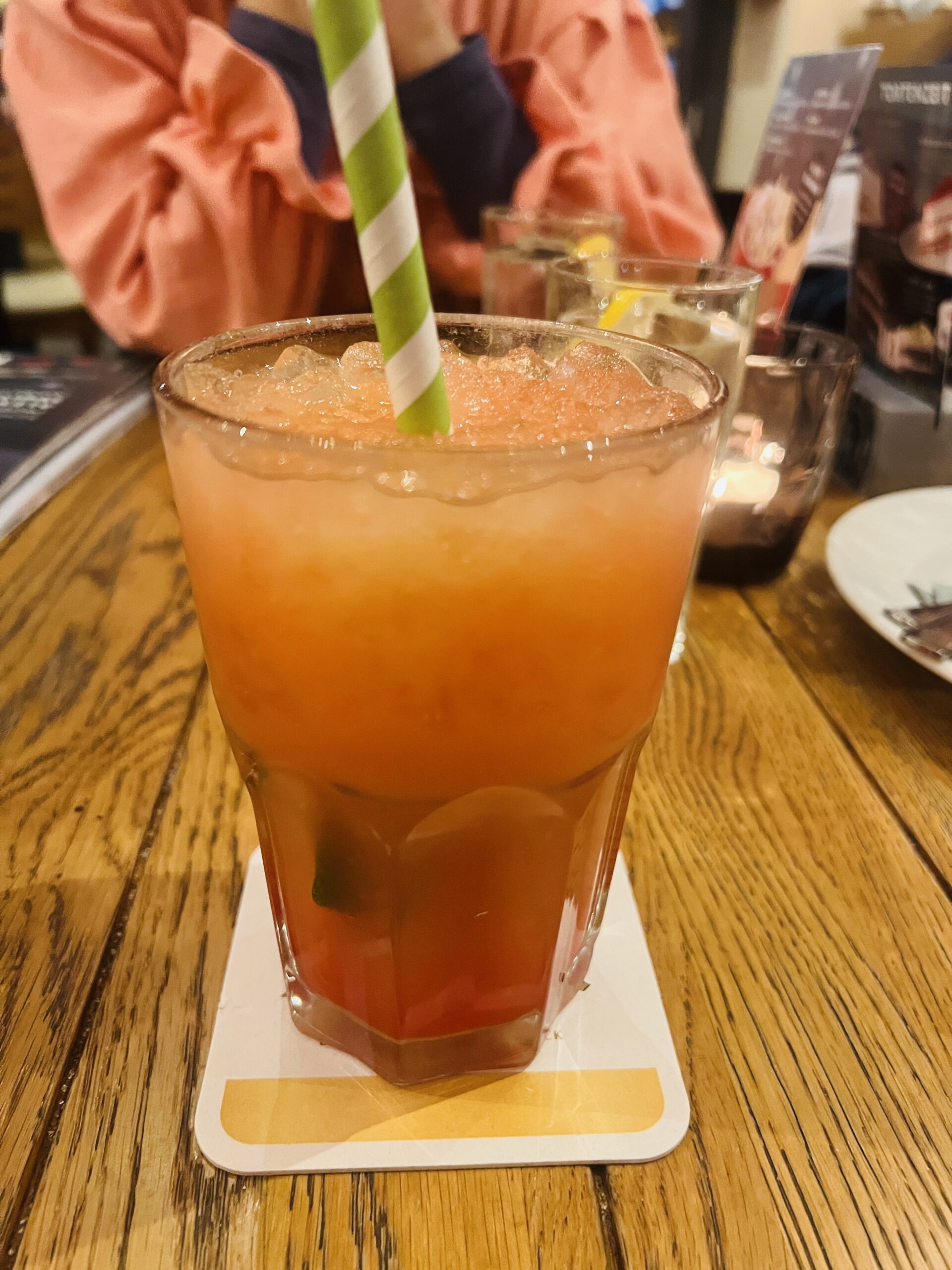 Another option is Homemade Original [€4.80] which is a blend of orange juice, DeKuyper Grenadine, orange, lime, cane sugar and water. It is sweet and sour, prefect for any season.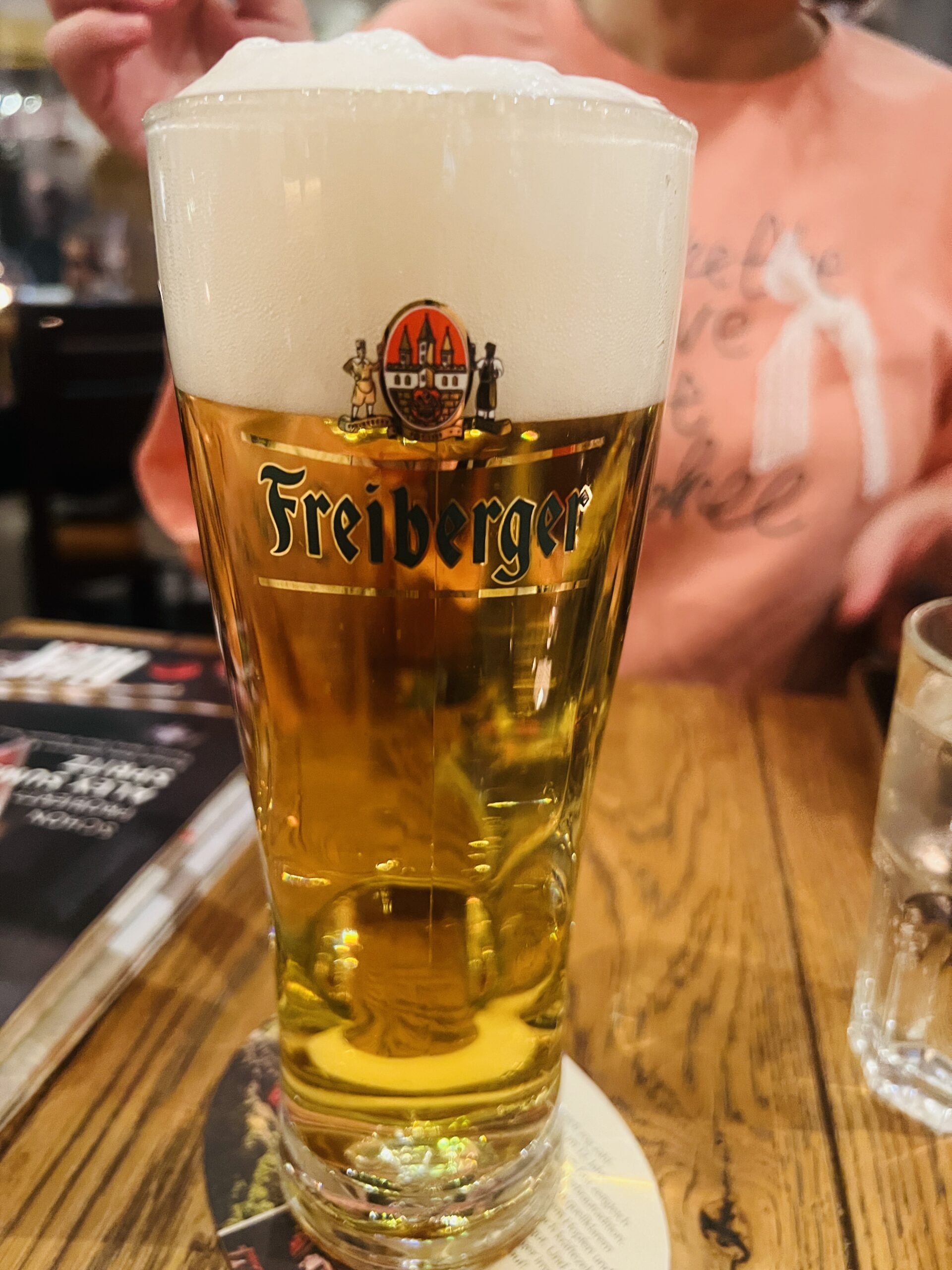 There are also alcoholic drinks such as beer, wine, champagne and cocktails. This is Wheat Beer on Draft 0.5L [€4.70] which has a smooth malty taste.
ALEX Dresden at the Castle
Address: Schlossstrasse 7-9, 01067 Dresden
Telephone: 0351-40763260
Opening Hours: Monday – Thursday 8am – 1am, Friday – Saturday 8am – 2am, Sunday 9am – 1am
Website: https://www.dein-alex.de/dresden-am-schloss/speisekarte
(I recommend viewing it in Google so it can auto-translate to your choice of language.)